Source: www.hra-news.org
Translation by Iran Press Watch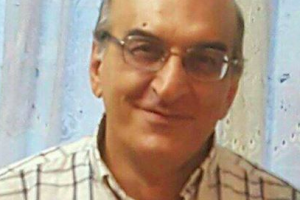 HRANA News Agency – Branch 36 of the Tehran Province Court of Appeals upheld the conviction of Farug Izadinia, a researcher, translator and Baha'i citizen living in Tehran. Mr. Izadinia was previously sentenced by the Tehran Revolutionary Court to ten years in prison. Mr. Izadinia has also previously been detained for ideological reasons, including being sentenced to death in the 1980s and released after serving five years in prison, when the death sentence was revoked.
According to the HRANA news agency, the news arm of the Human Rights Activists in Iran, Branch 36 of the Tehran Province Court of Appeals upheld the conviction of Farug Izadinia, a researcher, translator and Baha'i resident of Tehran.
According to the verdict issued by Branch 36 of the Tehran Court of Appeals, presided over by Judge Ahmad Zargar on 19 May 2009, and announced on 19 June 2020. Mr. Izadinia was charged with "acting against national security through the Baha'i Organization". He was sentenced to ten years in prison.
Faruq Izadinia was previously sentenced to ten years in prison by Branch 28 of the Revolutionary Court of Tehran, presided over by Judge Mohammad Moghiseh, in the initial sentencing stage in August 2019.
In his lawsuit, it was included that "He was in the administration and was influential amongst individuals and was an influence on their attraction to the Baha'i Faith." The court found the offense to be punishable by ten years in prison, counting the previous detention time, according to Article 498 of the Islamic Penal Code.
The lawsuit also referred to the teaching of Mr. Izadinia at the BIHE (Baha'i Virtual University: Baha'i Institute for Higher Education.)
The trial of Faruq Izadinia was held in late February, 2019.
After holding this court session, Mr. Izadinia, in an open letter, described the process of his trial and the details of the court session, the full text of which has already been published by HRANA.
Faruq Izadinia, who has also been previously arrested and imprisoned, was arrested and sentenced to death during the arrests and executions of those with differing ideology, in the 1980s. Sometime later, the death sentence of this Baha'i citizen was revoked and reduced to ten years in prison. Mr. Izadi was finally released from prison after serving five years.
This Baha'i researcher and translator was last arrested on February 13, 2019 by the security forces at his private home. At the time of his arrest, officers also confiscated about 1,300 volumes of books and personal belongings. He was released on bail two weeks after his arrest, pending his trial.
It is worth mentioning that Faruq Izadinia, born in 1351, is a Baha'i translator and researcher living in Tehran. His works include the translation of "Aldous Leonard Huxley's" "Devils of Loudon", which was published in 2015 by Niloufar Publications.
Baha'i citizens in Iran are deprived of liberties of practicing their religious beliefs. This systematic deprivation of liberty occurs while Article 18 of the Universal Declaration of Human Rights and Article 18 of the International Covenant on Civil and Political Rights entitle any individual to freedom of religion and belief and also freedom to express it individually or collectively and in public or in private.
According to unofficial sources, there are more than 300,000 Baha'is in Iran, but Iran's constitution only recognizes Islam, Christianity, Judaism, and Zoroastrianism and does not recognize the Baha'i faith. For this reason, the rights of Baha'is in Iran have been systematically violated over past years.