Source: www.radiofarda.com
Pooyan Mokari
Translation by Iran Press Watch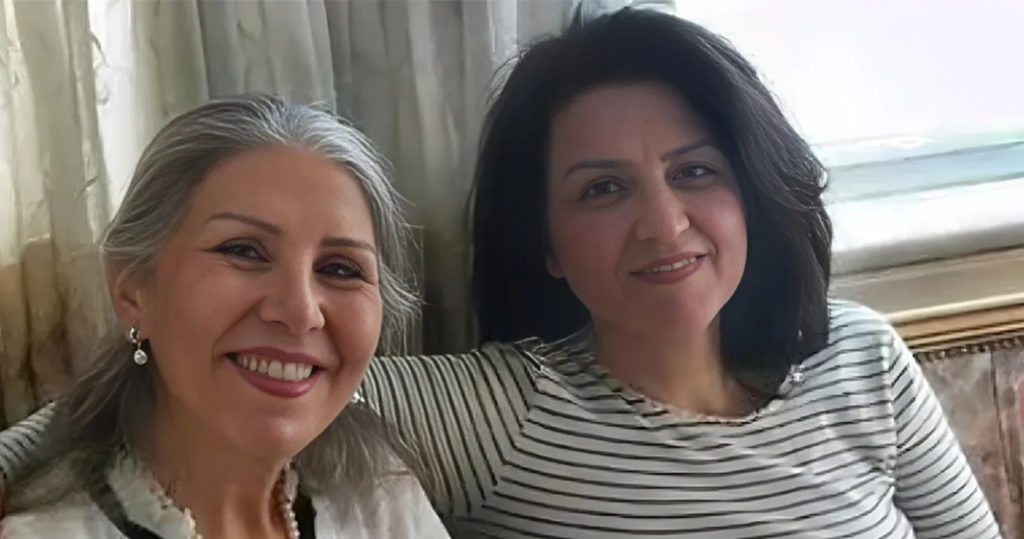 When nationwide protests, known as the "Zan Zendegi Azadi" (Women, Life, Freedom) movement, began in 2022 in Iran, Iranian authorities responded with intensified repression of various classes of political and social groups. Simultaneously, a wide wave of summons, arrests and convictions with heavy prison sentences were launched against individuals of religious and ethnic minorities.
The American Commission on International Religious Freedoms, in their statement published on the eve of the anniversary of the death of Mahsa (Gina) Amini, expressed concern about the intensification of pressure on religious minorities in Iran and the arrest of their leaders. (Ms. Amini died while in the custody of the Islamic Republic of Iran's Guidance Patrol on 16 September 2022.) In this statement, they condemned the government of Iran for targeting minority communities, citing numerous cases of violations of civil and religious rights by Iranian authorities against religious minorities, including Baha'is, Christians, and Sunnis.
The Baha'i International Community announced in late August of this year that "60 Baha'i citizens" had been arrested, some sentenced to prison and another "180 Baha'i citizens" were harassed by the security agencies.
On August 14, Padideh Sabeti, the spokesperson of the Baha'i International Community, reported to Radio Farda that more than "120 Baha'i citizens" have been targeted by the security institutions of the Islamic Republic. This means that the government has subjected at least one Baha'i to "systematic persecution" per day.
As part of their campaign, Iranian authorities have re-doubled pressure on well-known figures of religious minorities over this last year. Notably, two well-known Baha'i women, Mahvash Sabet and Fariba Kamalabadi, former leaders of the Baha'i community (the Yaran Iran), were rearrested last year. Each had previously served 10-year prison sentences, completed in 2017. Following their arrests, each were subjected toc interrogation and torture so severe, that Mahvash Sabet knees were broken during interrogation. This was confirmed by Faizeh Hashemi, the imprisoned political activist, who reported in an audio file released on April 5, 2023.
Despite the widespread reaction of civil activists, inside and outside of Iran, to the severe treatment of Kamalabadi and Sabet, reports received by Radio Farda show that Islamic Republic continues to pressure these well-known Baha'i women.
Increasing Restrictions in Daily Life
Since taking power following to 1979 Islamic Revolution, the Islamic Republic's persecution of its Baha'i citizens has been constant, manifesting in various forms and varying levels of intensity. The Islamic Republic does not recognize the Baha'i Faith and Iran's judicial authorities have repeatedly vilified Baha'is as "spies and enemies." Despite vehement denial by Baha'i citizens and a complete lack of evidence, authorities routinely use these allegations to justify depriving Baha'i citizens of their basic civil rights. Confiscation of property, seizure and sealing of Baha'i-owned businesses, dismissal from government jobs, and exclusion from entry to university are among violations perpetrated by government authorities against Baha'i citizens.
Since the start of "Women Life Freedom" protests, authorities have instigated another wave of intensified persecution of the Baha'i community.
Notable is the recent burials of Baha'i citizens by authorities in the Baha'i cemetery of Tehran, known as Golestan Javid (Eternal Garden), in Khavaran Cemetery. This is the site of mass burial of Baha'is who were murdered during of summer of 1988 executions. Since late March 2023, under the direct orders of the Ministry of Intelligence of the Islamic Republic, several Baha'is have been secretly buried in this area of Khavaran cemetery, without notifying families and without observing Baha'i burial rites. Baha'i activists have reported that at least 11 Baha'i citizens have been buried in this way.
Increasing closures of Baha'i businesses by the security agencies has been published by news organizations in the past year. In one of these reports, the Ministry of Intelligence of the Islamic Republic announced the seizure of "40 pharmacies and warehouses" belonging to a Baha'i family, on August 13, 2023. In its statement, the Ministry reported that a Baha'i family and their associates, who were working in the field of "medicine and cosmetics," had been arrested and charged with "medicine smuggling and hoarding", "cheating in travel medicines", "money laundering", and "tax evasion".
It is evident that security agencies of the Islamic Republic is using the occasion of the national unrest to justify and increase of their ongoing persecution of Baha'i citizens, not only through increased arrests and judicial order, but also in interfering with all aspects of their daily lives, including the depriving families the means of making a living.
"Tougher" Security Treatment for Baha'is
In the case of arrest and detention, detained Baha'i citizens and their relatives have reported that Baha'i citizens experience "double discrimination".
For example, Sara Sabet Rasekh, a civil activist and Baha'i, who is currently out of prison awaiting to be summoned to serve a recently imposed 8-year sentence, shared with Radio Farda that the security and judicial institutions have dealt with Baha'i activists "harder and harsher" than activists and protesters who are not Baha'i.
Prior to the "Woman Life Freedom" protests, Ms. Sabet Rasekh had been serving a sentence handed down by the Isfahan Revolutionary Court in March of 2022. She had been released from incarceration on condition she wear an electronic arrest anklet for the remainder of her sentence. She attended the "Woman Life Freedom" protests in Isfahan and was rearrested. While friends who were not Baha'i who had been arrested at the protests were given amnesty, Ms. Sabet Rasekh was sentenced by The Court of Appeals in Isfahan Province to an additional eight years in prison. She shared with Radio Farda that severity of her sentence is due to her being a woman, a civil activist and a Baha'i, and "in the country of Iran, she is considered a minority to the power of three".
Ms. Sabet Rasekh related how her friend, who was not Baha'i, had been granted amnesty in a similar case. She related that authorities initially offered her amnesty as well, but then rescinded. "Even in this way, they tried to harm me emotionally. At first, they told me that you are granted amnesty, but then they said that I should continue her electronic imprisonment for another year. But a few months before the end of Electronic Anklet sentence, they issued a new sentence of eight years imprisonment."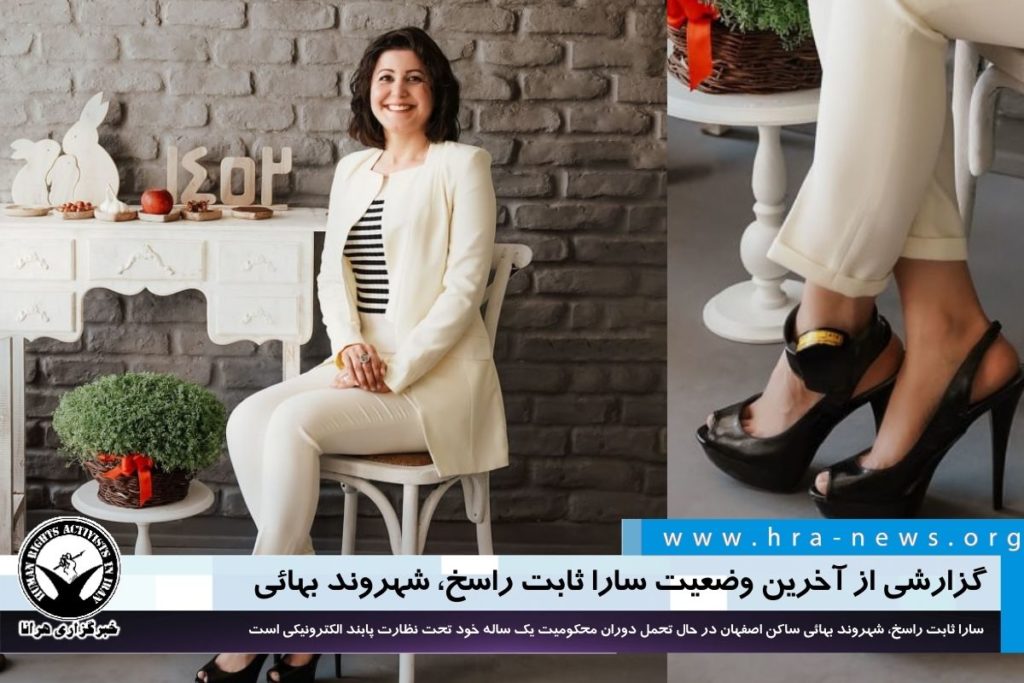 Ms. Sabet Rasekh further reports that she was summoned to the intelligence department for questioning many times and was obligated to interact with the detention center twice a week. Her friends in the same situation but who were Baha'i, were not subjected to this treatment.
Upon arrest, Ms. Sabet Rasekh, as well as her friends, had their belongings confiscated. She reported that , "They did not return my belongings for about a year and a half, while non-Bahá'í friends got their belongings back in less than two months."
On June 18, 2023, the 40th anniversary of this mass execution, the international Baha'i community launched a campaign entitled "Our Story is One", addressing the persecution of Baha'is in Iran. One of the "painful experiences" Ms. Sabet Rasekh endured occurred on the eve of that anniversary. A non-Baha'i friends sent her a message saying if she "accepts Islam, their friendship will continue, otherwise the relationship will be cut off." Shortly after, she received a similar message from another civil and political activist. She shared these messages with Radio Farda, and it can be confirmed that both messages were written with the same meaning and context. She told Radio Farda, "I feel that my friends were under pressure from the Ministry of Intelligence and sent me such messages in order not to be imprisoned or deprived of social activism."
Ms. Sabet Rasekh shared that two other Baha'i citizens, in two other cities, told her in that they experienced similar harsher consequences compared to those experienced non-Baha'i citizens.
Evidence, statistics and reports received by Radio Farda further demonstrate that systematic pressure by the security institutions on Baha'is has increased concurrent with the " Woman Life Freedom" protests. Baha'i activists within Iran have given statements that further demonstrates the notable upward trend in persecution over the year since the beginning of nationwide protests.