Source: www.rahesabz.net
Translation by Iran Press Watch
16 May 2014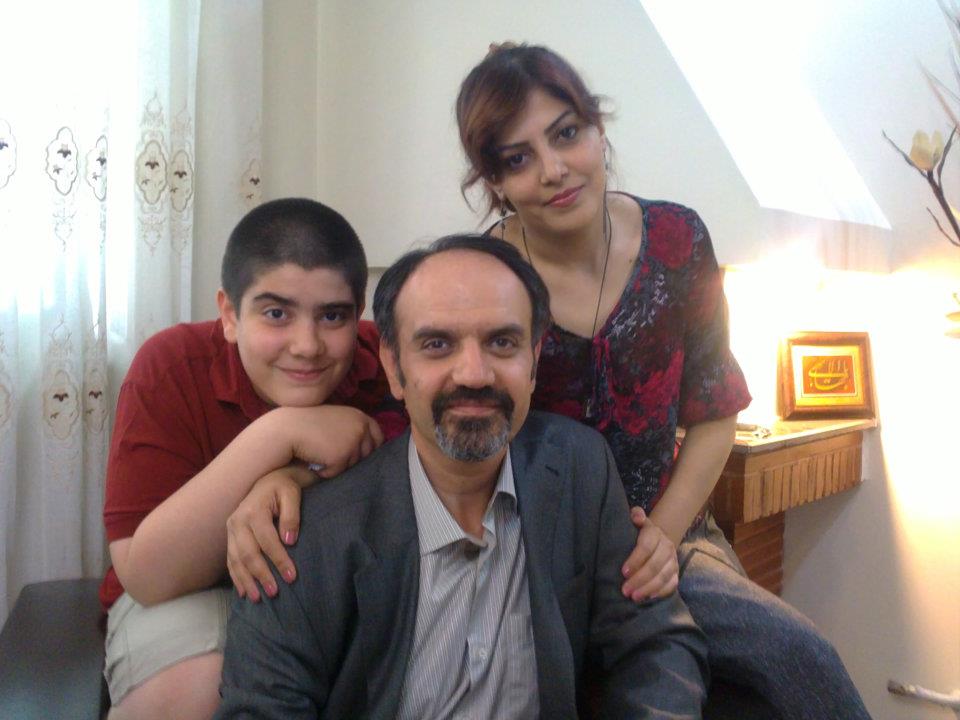 Chapters from History and Glimmers of Hope
Vahid Tizfahm
This is a letter from Vahid Tizfahm to his son. Vahid Tizfahm is one the leaders of the Iranian Baha'i community, and he is currently serving a twenty-year sentence in Rajaee Shahr Prison.
My Dear Son, Samim,
As you well know, six years of my sentence have passed, and in a few days, on 15 May, the seventh year will begin. I am well aware of all the problems and hardships that you have had to overcome, sometimes alone and at times with the help of others. Today, I have decided to review the last 32 years by sharing with you some of the many bittersweet experiences of my life.
Many years ago, when I was nine years old, security agents raided our home one morning. After searching through the rooms, closets and our books, they arrested my 42-year-old father and took him away. After eight months of weekly visits in the Orumiyeh prison, during one of our last visits, my father asked my mother, "Should it be God's will that I give my life for my beliefs and my Faith, will you promise to take care of our children and to raise them to be honorable members of society according to my wishes?" Saddened by this request, my mother replied, "Yes, I promise. Rest assured and remain steadfast in your path."
Finally, in May 1982, during one of those visits to the prison we waited anxiously with my sisters and three-year-old brother to once again see our father's loving face across the room until the guard finally informed us that our father was no longer there and had been moved to another location. Disheartened and disappointed, we returned home. After two days of searching and appealing to various administrative and legal authorities we received no definitive answers and finally, in desperation, we went to the Ministry of Justice's morgue in Orumiyeh, hoping to find our father. The attendant told us that they received several unidentified bodies every day. After our insistence, he acknowledged that there was a body there that matched our description, and that there were three bullet wounds on it.
In those years, I was full of questions and ambivalence! Why should my father — a devout, selfless and honest man whose only crime as a teacher in the Department of Education was to serve his countrymen and the Baha'is in his community – be executed? Did those who committed this heinous act stop to ask themselves who was the target of their bullets and why? Did the executioners who carried out the sentence stop for one moment to wonder what his crime was? What was he guilty of that he should be treated in such a cowardly manner? What was he guilty of that he should be denied a lawyer, denied the opportunity to defend himself, and face a charge never proven by any evidence? In the end he was put to death solely because of his adherence to his religion and his steadfast refusal to recant his Faith in spite of the threats and inducements.
My beloved father gave his life because his beliefs differed from those of the people in power, the absence of an independent and just judiciary, and the decisions of one or more perverse and misguided individuals. He wanted to testify to his "belief in the unity of all mankind and the development and progress of Iran and its people through devotion and service to all those he knew." He chose to be unwavering and steadfast in his beliefs and to sacrifice his life rather than cling to a worldly existence of material pleasures and an abject life of denial. In spite of his deep devotion and love for his wife and children and his sisters, he cried out his adoration for his Beloved as he left us, holding the picture of his three-year-old son Hushmand in his clenched hand.
My dear Samim, my precious son, history is repeating itself. I am now serving a 20-year sentence in exile in Rajaee Shahr Prison, one of the harshest sentences given to prisoners of conscience. During the last six years, I spent many months in solitary confinement in ward 209 and which I will describe at another time. I have lived for months in this dreadful prison known among the inmates as the "black pit" of Iranian prisons, in communal cells measuring ten square meters for five prisoners. Of course, for the last three and a half years my home and shelter has been Rajaee Shahr Prison in Karaj, one of the highest security prisons in Iran. Except for a limited number of political prisoners and prisoners of conscience, the majority of the inmates are considered dangerous and are on the death row. I was detained for 20 months before I was allowed to meet with my lawyer for half an hour and under strict surveillance. That is all! I remember that one of the political prisoners in Evin prison who was executed two years ago said, "Things have changed a lot in our country; although your father was not allowed a lawyer, you have one and in the next generation your son will have full legal rights as a prisoner!"
My dear son, after my father was martyred I studied diligently and although during my elementary and high school years I was the target of many insults and discrimination by some of my teachers and classmates, but most of them supported me and defended my rights as a Baha'i student. After graduation from high school I was prevented from entering university; I had to continue my education by correspondence through the Baha'i Institute for Higher Education. I was not the only one. In spite of the illegality of the ban, and in violation of the Rights of the People chapter of the Constitution, thousands of Baha'i youth have been deprived of pursuing higher education in the country's universities. They have, however, diligently endeavored to triumph over this calamity by continuing their education through correspondence and under extremely difficult circumstances. They studied in a university that was, in fact, established as a response to this adversity. In 2002, 19 years after my father was martyred, the authorities ordered the destruction of the Baha'i cemetery in Orumiyeh. We had to move my father's remains to another location and this was a reminder of all the bitter memories of the past.
My dear son, Samim, during all these years your father has spent his time and energies in the service of the Baha'i community and his countrymen, and he has never missed an opportunity to do so. Indeed, I am guilty of striving to assist and support others. Nothing else! Of course, many of these hardships have been endured by innumerable Baha'is in cities and villages across our country and much time is required to also tell their stories.
Iranian society has changed now and one can observe many signs of its growth and transformation. For instance, many freedom-loving and open-minded people from different social groups, including enlightened clergy, liberal writers, courageous journalists, independent and self-sacrificing lawyers, as well as social, political and cultural activists have all become aware of the truth, and they defend the rights of all their compatriots including the Baha'i community and people like me.
My dear son, with ever-growing awareness, rising social consciousness and the Iranian people's increasing sensitivity to the human rights of all their countrymen, we can now be hopeful for a brighter future with diminishing discrimination and persecution of freethinkers, adherents of other ideologies, other racial and religious minorities, and intellectuals in this society, all of whom are a great source of honor for Iran, I am extremely hopeful that today's adolescents and youth – and you are one of them – will be able to play a major role in bringing about awareness, progress in education, justice and equity, the eradication of poverty and promotion of morality and spirituality in the Iranian society. I hope they will resolutely and selflessly persevere in promoting the spiritual, social and economical development of our beloved Iran with the aid and collaboration of our countrymen.
The development of Iran requires the participation and cooperation of every Iranian regardless of class, race or religion. I faithfully say this prayer every night before I lay my head down:
"O kind Lord! Thus Thou be the supporter and bestow strength so that they may attain their desire, be heedless to the amount of  worldly possessions, and make that country an exemplar of the celestial world above." (1)
Therefore, my dear son, the thoughts, objectives and beliefs of yourself and other adolescents and youth of your generation must be focused on spiritual, moral and personal growth as well as service to humanity and to your compatriots, so that when called upon, you may serve those around you by dedicating your time, energy and talents to develop their potential so that together you may continue to learn through experience, and by expanding a discourse based on love and unity, aid them in their struggle for spiritual, personal and material growth. You ardent and capable adolescents and young people are the source of love and hope among those who need help and assistance and yearn for happiness and a better life.
Your father,
Vahid Tizfahm
Rajaee Shahr Prison
9 May 2014
____