Source: The Official Facebook Page of Nasrin Sotoudeh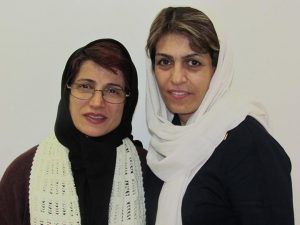 I had represented several Baha'is from the city of Semnan, and later on I also spent time in prison with some of them during my imprisonment. The story of each of them is a developing saga. When I talk to them, some have just been released from prison, others are awaiting a prison sentence to be issued, and yet some others have a sentence issued and are waiting to be sent to prison for implementation. Sussan Tebyanian is one of the Baha'i women whom I shared a prison cell with from April to September 2011. We connected on several fronts that we shared similarities. We both had two young children of same age and worried about our children together.In the past three years that Sussan was released she has struggled with many problems. Similar to many other Baha'is in Semnan, she has faced difficult economic times and continues to. Baha'is are banned from employment in the public sector and have turned mostly to private sector jobs like shop-keeping. Some have established factories and some others engage in agricultural activities.However, gradually their shops have been shuttered, their factories closed, and their land taken away or being taken away from them. This is akin to an economic blockade that makes earning a living and survival extremely difficult. Sussan Tebanian was detained again in recent months and after 40 days in detention was released on bail, prosecuted again and sentenced to a one-year prison term. She is now awaiting its implementation.Sahba Rezvani was another one of my cellmates. Last year, her brother, Atallah Rezavani was murdered in the city of Bandar Abbas and despite many following ups, no one has been identified as his murderer.Last week, I went to Semnan to meet Sahba, Sussan, and other Bahai's of Semnan. I went there to tell them we are together and to express my solidarity with them. Because we are all Iranians, we are all humans, and we suffer common pains. Rights of all of us are violated, although the rights of Baha'is are violated more than most of us. Their right to employment, right to education, right to private property, and right to life …are all violated.
These days in our country, news is not good: to be a communist, to be a Christian (especially a Moslem converted to Christianity), to be a Zoroastrian or a Jew, to be a liberal or a secular … they are all castaway.
Even Moslems don't have much security. The only accepted Moslems are those who are not reformist, not followers of Interuniversalism, not a Gonabadi Sufi, not an independent journalist, not a Moslem wanting separation of religion and politics, not an independent lawyer, and not anyone critical of state policies…
Indeed, with these designations, is there any Iranian who is safe from being detained for sure?