Source: sahamnews.org/1393/09/270866
Translation by Iran Press Watch
November 22, 2014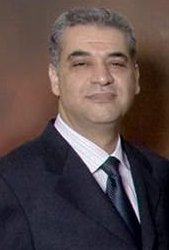 Afif Naeimi (1), a prisoner of conscience at Rajai Shahr prison, was brought to Shariati Hospital in Tehran for treatment. Despite severe stomach bleeding and considerable weight loss, he was taken back to prison an hour ago by order of the Attorney General.
According to Sahaam news, this prisoner has been fighting serious health problems throughout the last year and has been hospitalized many times.
In the last year, both the prison doctor and the Medical Council that was convened at the request of the Attorney General expressed their professional opinion in many official letters that this prisoner was not able to physically tolerate prison conditions. According to the physicians' diagnosis Afif Naeimi should either be hospitalized or sent home to rest due to his severe health condition and heart failure. He is not physically fit to withstand prison conditions.
Afif Naeimi, 52, is one the seven Baha'i leaders (called the "Friends" of Iran, or Yaran) who is serving his sixth year in Rajai Shahr prison. He has been sentenced to 20 years in prison. One of the charges against him is "establishment of the Baha'i sect".
Previously, in a letter to the Rajai Shahr prison authorities, the office of the Attorney General of Tehran had asked the prison health clinic to perform necessary daily clinical exams on Afif Naeimi and report the results back to them. According to this order of the office of the Attorney General, due to his frail condition the prison clinic would be allowed to send him to a hospital in case of any critical condition without asking for permission.
This order of the office of the Attorney General by itself is an indication of the extent of the knowledge of the authorities about his critical health condition, yet they failed to take the necessary and appropriate actions.
In many letters written to the office of the Attorney General, this prisoner, referring to the recommendations of the Medical Council, has officially announced many times that he holds the Attorney General of Tehran responsible for his life. "With this  prison doctor's diagnosis, there are no legal, moral, or ethical excuses for the Attorney General to keep me in prison any longer", he claimed.
1. A profile of Mr. Naeimi can be found at http://news.bahai.org/human-rights/iran/yaran-special-report/profiles