Source: hra-news.org
Translation by Iran Press Watch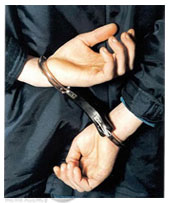 HRNA News Agency- Security forces went to Naghmeh Farabi's residence, a Baha'i citizen in the city of Najafabad, arrested her and took her to Yazd prison for completion of  her two year imprisonment.
According to HRANA – Human Rights Activists News Agency in Iran – Last week security forces went to the house of Mrs. Naghmeh Farabi (Eshaghian) in the city of Najafabad. After they arrested her, she was transferred to the City of Yazd Prison to undertake her two year sentence.
Security forces went to her house; when initially they found that no one was home, they illegally climbed the wall and entered the house.  As they could not find her, they came back in the afternoon for the second time and arrested her.
In August 2011, Mrs Farabi was accused and arrested of being a member of the Baha'i community along with 16 other Baha'is from different cities. In May 2014 she was sentenced to two years imprisonment by the Islamic Revolutionary Court of Yazd.
All these Baha'is have been collectively sentenced to 58 years of imprisonment, and some of them are now enduring their sentences in prison.