Source: hra-news.org
Translation by Iran Press Watch
6 April, 2015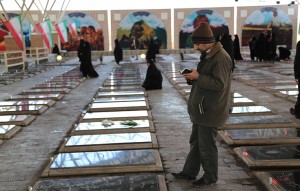 HRANA NEWS –  Officials at the public cemetery of Tabriz prevented the burial of a Baha'i and buried him in another city without notifying the family.
According to HRANA news, the news wing of Human Rights Activists in Iran, officials at the public cemetery of Tabriz, known as the Valley of Mercy, prevented the burial of a Baha'i by the name of Mr. Morovati who had passed away in Tabriz on 20 March 2015, and buried the deceased in the city of Miandoab without notifying the family or performing religious burial ceremonies.
In this respect a Baha'i told HRANA: "The family of Mr. Morovati transported the body of the deceased to the Valley of Mercy Cemetery, but officials told them to deliver the body to the morgue, return home and wait to be contacted.  A few hours later, one of the Valley of Mercy employees called and told the Morovati family that burial permission was not granted and that the body had been taken to Miandoab for burial."
According to HRANA sources, over the past one and a half years no Baha'i has been allowed to be buried in Tabriz, and all who have passed away have been buried in the surrounding cities without the knowledge of their families.  During this period, the Baha'i families of the deceased have requested to meet with Mr. Jalali, the head of the Public Cemetery of Tabriz (Valley of Mercy), but he has not been willing to agree to meet and discuss the issue.