Source: sahamnews.org
Translation by Iran Press Watch
July 13, 2015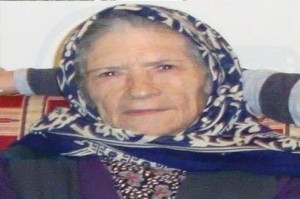 More than 50 police officers and plain clothes agents interfered with the burial of the body of Ms. Badji Khanoom Mohamadifar at a cemetery in Sanandaj, a Kurdish city in western Iran.
According to Sahaam News Agency, a Baha'i website reported: "the other day, security forces showed up at Golestan Javeed ("eternal garden") ‒ the Baha'i Cemetery ‒ and prevented the burial of Mrs. Mohamadifar in that cemetery after her passing. They announced that they would not allow her to be buried there."
According to this website, an informed source reported that "security forces along with police completely surrounded the cemetery."
The Mohamadifar family were Baha'is from Seysaan, a village near Tabriz in northern Iran, who had fled home and migrated to Sanandaj due to the severe harassment and persecution which they had suffered in Seysaan.
The village of Seysaan had some 500 Baha'i residents whose homes were burned down and their belongings confiscated after the Iranian revolution. These villagers had to flee and take refuge in other cities in Iran, such as Kirmanshah, in western Iran.
Based on the reports of this website, the Mohamadifar family have brought their plight to the attention of the Governor's office, and have filed a complaint against the security forces. In response, officials in that office have told them: "take your dead somewhere else."
In the last few months there have been reports of prohibitions of Baha'i burial in cemeteries in other cities.
Golestan Javeed of the Baha'is in Sanandaj has been completely demolished three times since the Islamic revolution; the last time was on December 12th 2013.