Source: hra-news.org
Translation by Iran Press Watch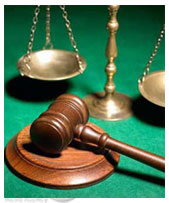 HRANA News Agency – For the fourth time, a group trial of Baha'i citizens of Golestan Province has been held, in this case for Ms. Roofia Pakzadan, Ms. Shohreh Samimi, Ms. Parivash Shojaee and Ms. Tina Mohebati.
Based on reports from HRANA – the news agency of Human Rights Activists in Iran – this session was held on June 23rd, though some of the defendants had not even received subpoenas. Therefore, Ms. Roofia Pakzadan could not attend the court session to defend herself, inasmuch as she had not received a subpoena.
This was the fourth group trial of Baha'i citizens of Golestan Province held in Gorgan. Charged with propaganda against the regime, a number of Baha'i citizens in Gorgan and Gonbad have been tried in groups of four since December 28th 2014; as of today, 15 Baha'i citizens have been sentenced.
It should be noted that the Iranian government does not recognize the Baha'i Faith as a religion, nor the rights of its followers as citizens. Consequently, most of these charges come about because followers of the religion hold prayer gatherings at individuals' homes.