Source: bahaicamp
Translation by Iran Press Watch
Text of the open letter from Ghavameldin Sabetian, a Baha'i from the City of Sari: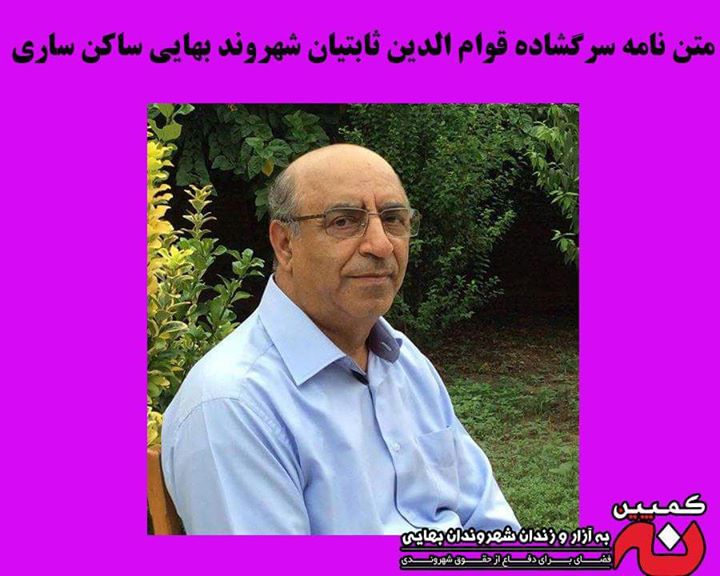 In The Name of God
Respectfully submitted,
I, Ghavameldin Sabetian, a seventy-three year old carpenter, with a work address as follows:
Sari, Blvd Pasdaran, past Forest Guard, before the Shahid Ghorbani Rd, titled: Wood and Art of San'e Novin, am in possession of work permit 2805, valid until 01.25.2020.
On 26 April 2015 my work permit was confiscated and my place of business was shut down and sealed by the Office of Properties of the City of Sari.  After multiple visits and much wasted time at the Office of Properties, finally on 11 May 2015, the order to break the seal and re-open my business was issued by the Trade Office.   With my many daily follow-ups, finally on 17 June 2015, fifty-two days after the original shuttering of my business, officials came to remove the official closure seal from my business. First, however, they presented me with a typed pledge paper, with several hand-written items added to the bottom of this paper, which were truly insulting and offensive to my religious beliefs. In addition, these items would have taken away my ability to decide at what times I would open or close my business, in that I was required to notify the Office of Properties a week in advance of any plans to close the store, although such a request is neither legal nor practical.  Article Two of the Trade Laws allow 15 days of closure as the guaranteed right of all business owners, and anything above 15 days would be possible upon notification of the Trade Union.  Obviously this is an act of discrimination against me solely due to my belief in the Baha'i Faith, therefore I did not sign the paper, and my place of business continues to remain closed.
The Legal Constitution of the country of Iran allows equal rights to all people, regardless of their ideology or religion.  We are all created by the same God, we are all members of the same Nation, residents of the same sacred land and nation, and protected from any sort of violation against our integrity, life, belongings and rights.   Interrogation based on beliefs is banned. We are as colorful flowers in the garden of our country.  Consultation, kindness, and sincere cooperation is the path to the exaltation and advancement of our society.  Discrimination and hatred is the destroyer of humanity's foundation.  We are all fruits and leaves of our beloved land.
For sixty years I have dedicated myself to my duties, and served my valuable customers to the best of my abilities.  Now at the age of seventy-three, impaired due to a heart condition, I had a job at which I worked for a few hours a day, to simply take care of some of the most basic necessities of life.  Is this the reward of my effort and trustworthiness over all these years?
My spouse has been hampered by diabetes and thyroid issues for thirty-five years.  My 46-year-old daughter has been denied and deprived of all blessings of life.  The story of the manifold suffering and endless pain that our two families, mine and my wife's, have endured in the small village of Ayoul, 100 kilometers from Sari, and in the small village of Deza in the suburbs of Sari, would not even fit in hundreds of books.   Whatever we had worked for over the years 1979 to 1983 was forcefully taken away due to enmity and animosity.  Our houses were destroyed, our furniture was stolen, and the families themselves were left homeless.  Our beautifully and masterfully constructed two story home, made of premium material and with exceptional quality carpentry, as well as the homes of other dear friends, were leveled to the ground by bulldozers, and no trace of them is left.   My children were not allowed in the universities of my own country.  I am not even discussing how they detained and imprisoned me solely due to the "crime" of being a Baha'i.   Today I am only discussing my livelihood, which was possible with a meager income from my carpentry work, but it has been blocked and stopped.
My expectations from your honorable presence are to respect my legal rights, trade rights, civil rights, Senior citizen's rights have been denied to me and my family over all these many years.  I hope you will kindly pay due consideration to my appeal, and take steps to eliminate the obstacles present in the way of breaking the seal and re-opening my place of work.
With gratitude and appreciation,
Ghavam Sabetian.
CC: Mazandaran Provincial Office, Office of Property and City Development, Head of the Courts of the Mazandaran Province, Governor of Sari, Head of the Judiciary, Head of the Executive Branch, Commission of Article Ninety, Office of the President, Attorney General of the Country, Ministry of Interior, and Office of the Supreme Leader.