Source: BahaiNews1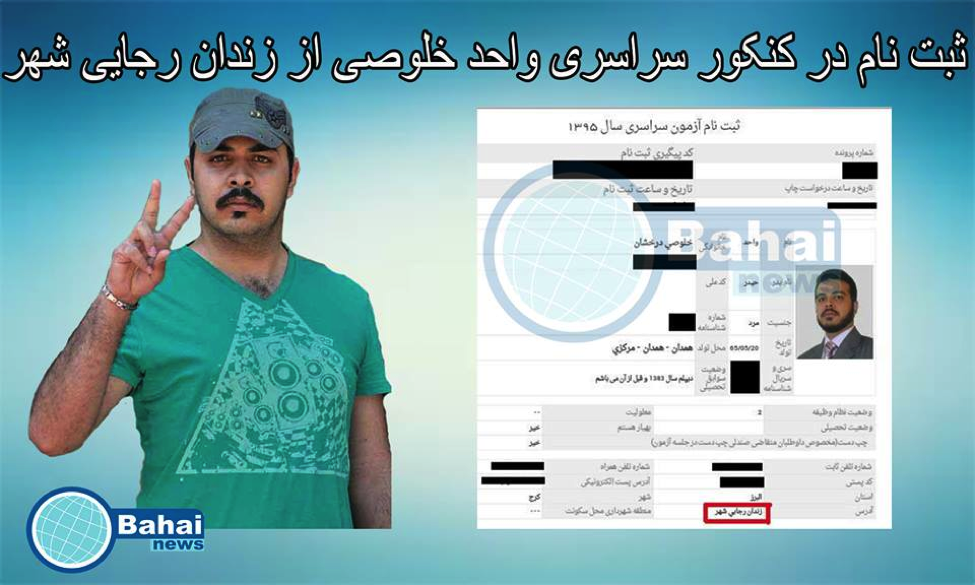 The annual registration of Vahed Kholusi for the nationwide university entrance examination is a symbolic act by this education rights activists in protest against the 12 year long deprivation of this Iranian Baha'i from his right to higher education.
As reported by "BahaiNews", Vahed Kholusi, who is an Iranian Baha'i who has been deprived of education, who is currently being held at Rajai Shahr Prison, has registered for the nationwide university entrance examination.  The registration of this Iranian Baha'i in the nationwide university entrance examination was done on his behalf by a number of education rights activists, as an expression of protest against his prison sentence due to his education rights activities.
According to "BahaiNews", this Iranian Baha'i, who is an education rights activist has endured a 12 year long deprivation of higher education. He has been sentenced to a 5 year prison term by the revolutionary courts for charges related to similar activities, and is currently serving his sentence in Rajai Shahr prison.
This Iranian Baha'i is asking to participate in the nationwide university examination at a time when many other Iranians are exercising their political rights by following up on news related to the Majlis elections, regarding which others like Vahed Kholusi have been deprived of their most basic human rights, such as the right to higher education. Despite their legal actions and extensive activities to seek justice, these very basic rights have not been afforded to Iranian Baha'is, and have turned into an impossible dream.
Registration in the nationwide university examination for Baha'is is a very low cost legal act. It is a democratic method to afford Baha'is a right that has always been a priority for Baha'is. Their continuous annual registration in the nationwide university entrance examination speaks to the lofty perseverance of Iranian Baha'i's in trying to achieve this goal. Under current circumstances, an increase in the number of university entrance applications to insist on their basic right to an education can continue to function as an effective and necessary method to get answers from government officials, and to protect the spirit of demanding rights for those who have been denied.
"BahaiNews" has previously published news regarding the deprivation of Baha'is residing in Iran from the right to higher education, and has published a petition with 500 Iranian residents' signatures in protest against denying Iranian Baha'is their right to higher education.
The first Universal Declaration of Human Rights on December 10, 1948 states that the right to education for all people, regardless of race, color, creed, religion and gender, is equal for all.
Over the previous several years, the claim of "incomplete application" (by government officials) has been equivalent to a systematic deprivation of Baha'i students from university education; it appears as though that trend will continue this year.
Denial of university education to Baha'is in Iran on the basis of the Sixth Directive by the Supreme Council of the Cultural Revolution, approved March 1984, which deprives Baha'is of a university education in addition to depriving them of employment in any governmental institution.
According to the third paragraph of this Directive, not only must Baha'i enrollment in universities be avoided, but if someone is successfully registered and their affiliation with the Baha'i Faith is later discovered after admission and registration while enrolled in school, the student is to be expelled/deprived from continuing their schooling.
Prevention of Baha'is in Iran from university education after the Islamic Revolution and declaration of the Cultural Revolution has been systematically implemented in Iran.
_____
1. "BahaiNews" is an independent non-Bahá'í initiative and is not affiliated with any Baha'i institutions.