Source: www.iranwire.com
Translation by Iran Press Watch
By Kian Sabeti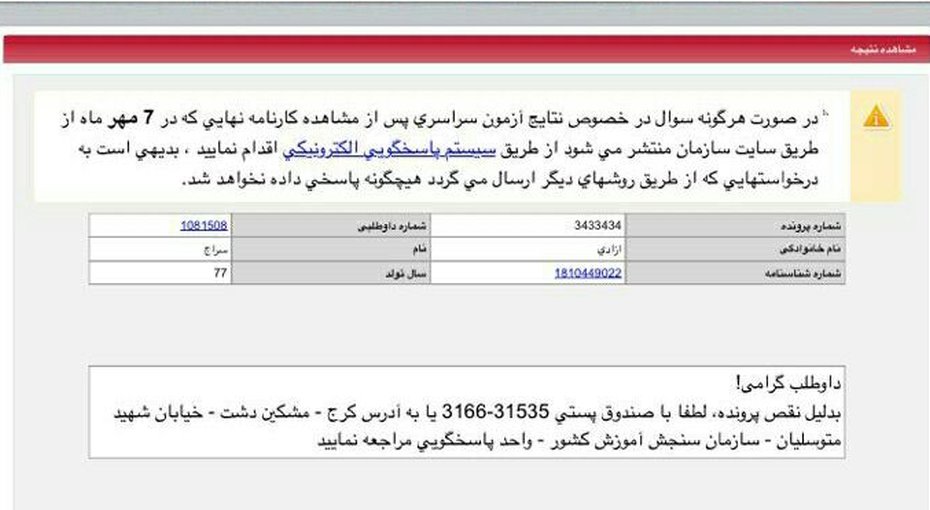 On September 18 this year, as for the last twenty years, tens of Baha'i applicants were not allowed to select a major and were denied admittance to universities and other institutions of higher education under the excuse of "incomplete file". Sfter applicants followed up, it became obvious that at least 129 of them were not registered because of their belief in the Baha'i Faith, and the excuse of "incomplete file" was given even though these students passed the Concours (the Iranian national university entrance exam) and qualified; a repeated scenario for the last 34 years.
On December 5, 1982, universities and other institutions of higher education reopened after being shut down for 30 months. This period ‒ also known as the "Cultural Revolution" in the history of the Islamic Republic ‒ marks the beginning of the denial of higher education to Baha'i students in Iran. Under the Cultural Revolution, all Baha'i instructors, professors and students were expelled from all universities nationwide, or, in the interpreted of the Cultural Revolutionary Staff, were purged.
The first nationwide Concours after the Cultural Revolution was held in July 1983. Applicants were asked to fill out and submit the registration forms in 1982. In one section of the new application form, applicants were asked about their religious affiliation, and were forced to select from four choices: Islam, Christianity, Judaism, or Zoroastrian. Baha'i applicants added and marked "Baha'i" themselves, as they were not followers of any of the named religions.
That year, hand-written letters were sent to Baha'i applicants calling them ineligible to participate in the Concours. In subsequent years, no letter was sent to Baha'is, but prior to taking the exam they were told that no exam registration cards had been issued for them.
In 2004, suddenly it was announced that the main purpose of religious choices in the Concours was for the applicants to choose one of those suggested four as a subject for religious studies. Based on that, Baha'is registered for the exam in 2005 with Islam as their subject of study. In July that year, after a 23-year ban, Baha'i applicants were able to take the Concours with the rest of the applicants.
After the announcement of the results of the exam, tens of Baha'i students who had passed the test were not allowed to select a major. Instead, they were all invited to go to the office of the National Educational Test Center in Karaj on a particular day before the deadline, which was also a holiday, to choose a major.
A Baha'i applicant recounted that day: "All the doors were closed but one. Few people were sitting behind their desks to help the applicants in that room. It was hard to tell if these people were the personnel of the Center or if they were from another organization like Ministry of Information."
He continued: "At first, they asked applicants their names and religious affiliation and then told them because their file was 'insufficient', they were not allowed to choose a major but the matter would be followed up at a later time. All the applicants filled and signed the 'request for follow up' forms. They issued receipts of the forms to all applicants from Tehran, but told applicants from other cities that they would receive their receipts in the mail: these receipts were never delivered."
This was the beginning of another round of denials of access to higher education for Baha'i students who were given permits to participate in the Concours, but who after passing the test were not admitted with the excuse of "insufficient file". Denials continued; this time with a new format.
Seraj is one of the young Baha'is who was denied a higher education. He lives in a city in southern Iran and recently received his high school diploma. He took the entrance exam for the first time, and became eligible to attend university. He said: "On September 18, 2016, all applicants who passed the test were supposed to select their university and major of their choice.  But, when my fellow Baha'i applicants and I went online to select, we were blocked with a note stating that our files were incomplete."
He stated that this was simply a lame excuse, because when filing for taking the Concours, one had to fill out a questionnaire and give an answer to all 49 different questions and options. Failure to answer even one would have resulted in automatic dismissal of the applicant. "For this very reason, incomplete filing is just an excuse to prevent young Baha'is from continuing their education," he claimed.
When asked how authorities could tell who was a Baha'i, he replied: "There is no question about religious belief on the application. They only ask you to identify which religion you want to study. Baha'is choose Islam. However, Baha'is are identified when entering primary or high schools, or whenever the census is taken. Therefore in my opinion all Baha'i applicants have already been identified from the minute they start filling the application on the site, and their denial is already established. It seems that all the processes such as taking the practice tests, the Concours itself, and the announcement of the results are just a formality and a costly effort for Baha'is."
Another Baha'i who had applied many times but every year was rejected with the excuse of "insufficient file" told Iran Wire: "I went to the Meshkin Dasht Evaluation Center in Karaj along with two other rejected applicants; we were told verbally that being Baha'i was the main obstacle to our admission."
Officials then asked them to sign a letter indicating that: "I, the undersigned, have taken the Concours of 2016 but was deemed unqualified by the Evaluation Center and was prevented from selecting a major. Since I have no criminal records and no security or moral issues and have never been summoned to a court of law, I respectfully ask you to reinstate and qualify me again."
He continued: "My friends and I did not sign the letter, and stated that just like all other Iranians, we as citizens of the country have the right to pursue an education. The only reason for declaring insufficient files to prevent Baha'is from pursuing higher education is their religious beliefs; education has nothing to do with one's personal belief. Of course we composed letters in our own handwriting instead and delivered them to officials, but they rejected those letters and asked us to sign their printed form and submit it to them to reconsider our case! There was a list of 129 Baha'i names in that Evaluation Center in Karaj who were disqualified under the excuse of 'insufficient file'. They asked our names one by one and then checked them on the list."
The Baha'is pursued the issue further. "Mr. Naeemi, the Vice President of  the Student Selection division of the Evaluation Center told us that our religion is the cause for the designation of 'insufficient file'. We asked him to reconsider his decision because legally everyone has a right to study despite his beliefs, creed and race. He answered that he was acting in accordance with directives from the Supreme Cultural Revolutionary Council which has banned Baha'is from pursuing higher education.  After more follow-up, we realized that the only person who had access to Baha'i files was Mr. Morteza Noorbakhsh, the head of the nationwide Educational Evaluation Centers. We paid him a visit, during which he told us that there was nothing he could do to improve the situation. In fact, he claimed that his efforts had resulted in allowing Baha'i student to take the Concours.
"What good would it do for a Baha'i student to take the Concours when he knows he would be rejected?! This is only a waste of time and money for him. On the other hand, allowing them to take the exam would serve as a propaganda for the government to demonstrate to the world that Baha'is can take the Concours like others."
In the last few days, some young Baha'is who were not banned and who were admitted to universities have subsequently been dismissed right after the first semester started. On October 1st, Hannan Horr, a mechanical engineering student at Noshirvani University in Babol, was not allowed to enter the classroom, and University officials told him that the Evaluation Center had disqualified him.
Also, Afagh Afshari, after being admitted and paying the full tuition, was banned from entering Yazd University. This young Baha'i was told by officials that the reason for his dismissal was one of the three cases: religious affiliation, criminal record or anti-government political activism. She was asked to guess which one her case was.