Source: Bahainews1
Translation by Iran Press Watch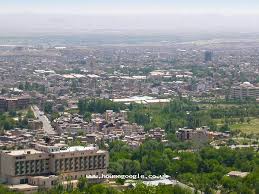 According to the Bahainews website, after 4 years the shops of Baha'is in Hamadan remain closed by Iranian officials.
According to a Bahainews report, on November 4, 2012, all Baha'i shops in Hamadan were sealed during the Baha'i religious holidays without their presence, in absentia and illegally, by the Office of Public Places of that city and by the order of the Ministry of Information.
A reliable source told the Bahainews reporter:" The appeal by Baha'i shop owners has not borne fruit after the passage of 4 years and 13 days, and they remain sealed. The owners are not permitted to work in another place either; as their last recourse, recently they were asked by the Ministry of Information to give assurances that they would open their shops during Baha'i religious holidays and work on those days. If they declined, it would be judged to be rebellion against the regime, propaganda against the regime, and teaching the misguided Baha'i sect. They also prohibited the shop owners from hiring any Muslim employees."
According to this report, the pressure on Baha'is reached the point when on May 29, 2013, Mr. Khosrow Maboodi's vehicle was confiscated, and his father, Mr. Parviz Maboodi, was summoned to the Ministry of Information. His vehicle was returned to him after 4 months; however, he was forced to be drafted into military service. Also, in the middle of that year, the Ministry of Information prevented three shopkeepers, who had had their shops sealed, from selling their goods in other stores. Mr. Kaveh Bayati and Mr. Jamal Bayati were two of these three business owners. The third, Mr. Navid Azizi, was a young man who earlier lost his life while hiking.
Informed sources in that province also reported that a tenant of one of these Baha'i-owned businesses was forced out by order of the Ministry of Information. Also, the mechanic's shop to which another Baha'i in the city, Mr. Mansoor Ayoubi, had moved his business after his own shop had been closed, was sealed and shut down as well. Mr. Farhang Maboodi suffered the same fate last , after he had moved his business to another location with his two partners. Two other Baha'is, Mr. Kamran Aghdasi and Mr. Samandar Aghdasi, who were doing business in front of their sealed shop, were fined by the city for blocking the sidewalk.
"The first few days after the Baha'i holidays were over, every shop owner individually appealed their case at the Office of Public Places, but to no avail," said a reliable source. "At that time ( the shops were sealed), they (the Office of Public Places) announced that these shops had been closed because they were not shut on any official holidays, and to resolve the issue shopkeepers had to appeal to the Ministry of Information," a shop owner recounted.
According to Bahainews.com, on those days agents of the Ministry of Intelligence called shop owners individually, and asked them one by one to give assurances that they would not close their shops on any Baha'i religious holidays. This request of the Ministry of Intelligence of Hamadan was refused by Baha'is, who took their cases to competent government officials.
"Each one of us met over 15 government officials in Hamadan and Tehran, who after consideration told us that our case was a 'security' issue and was out of their jurisdiction. Eventually, removal of seals for three Baha'i-owned shops were ordered; however, this order was not enforced for Mr. Shoja-eddin Jahangiri, Mr. Kamran Aghdasi or Mr. Samandar Aghdasi ," said another shop owner.
Other reports received state that Baha'is in Hamadan referred to another answer given by the Court of Administrative Justice under the direction of the Commercial Organization of the province of Hamadan, with representatives of Ministry of Information, assistant District Attorney, and police present. Although the provincial decisions of this directive are valid only for six months, the provincial authorities have been defending it for more than three years, and upon repeated visits of Baha'i citizens to the Intelligence Office, they have only been emphatically told: "You should make a commitment so that your shops can be opened". The attorney general of the province has also said: "Do not expect any event or miracle. You should just make a commitment".
According to the Bahainews report, the pressure on Baha'i citizens is not limited to business premises. The automobile of one of the Baha'i citizens, which had been confiscated due to business activities outside the shop, was transferred to a parking lot where detained automobiles are held. This happened while the store of Mr. Samandar Aghdasi ‒ the owner of the van ‒ was already sealed during the widespread closures of the business premises of Baha'i citizens.
In another case, Naeim Aghdasi-Yekta, who started distributing rice after his business location (selling rice) had been sealed, faced machinations of the Intelligence Office, and the rice he owned, valued at 9-million tumans ($2,800) was confiscated, and the Public Places Office made him pay a fine twice that value – meaning 18 million tumans ($5,600) – so he had to pay a total of 27million tumans ($8,400).
Based on this report, which was also published by Bahainews, the business premises of Samandar Aghdasi-Yekta were burglarized. Even though he asked officials of the Intelligence Office to temporarily unseal his store so that burglars could not infiltrate his store, they did not agree, and his entire stock was stolen by unknown individuals.
Every single store owner who planned to either sell the store or return the rental store to the property ownerwent to the Intelligence Office, and they had to make various commitments even for that purpose.
In conclusion, the following is the list of organizations and government offices to which the Baha'i citizens of Hamadan went:
The office of the Friday Prayer Leader of Hamadan
The offices of members of Parliament from Hamadan
The Provincial Office of Hamadan
Hamadan's Governor's Office
Hamadan's police force
Hamadan's Council for Trade Affairs
Related unions
Hamadan's Bar Association
Supreme Court of Justice
Court of Administrative Justice
The Commission for Article 90 of the Parliament
The Office of the President
In previous years, the Office of Public Places (a government entity) has repeatedly sealed the business premises of Baha'i citizens in different cities in the country.
Bahainews Agency has previously announced that the reason for sealing the business premises of Baha'i citizens is the opposition of the security forces to the nine Baha'i religious holidays. In previous years, we continuously witnessed the closure of the businesses of Baha'i citizens, as well as arrests of Baha'i citizens residing in Iran, after Baha'i holidays. Based on the country's labor laws, individuals holding business permits are allowed to close their businesses for 15 days, and they must inform the Public Places Offices if they are closing for more than 15 holidays.
____
Bahainews is an independent non-Baha'i initiative, and is not affiliated with any Baha'i institutions.