Source: www.iranhr.net
Translation by Iran Press Watch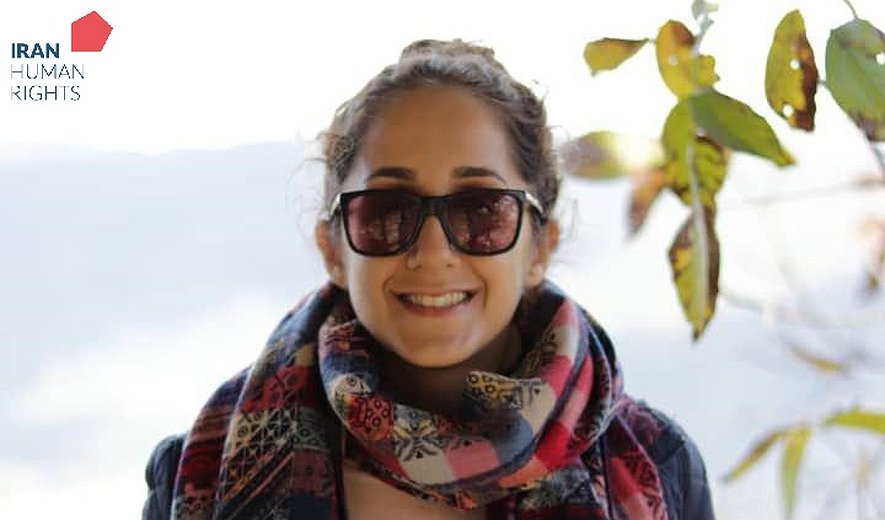 Human Rights Organization of Iran, November 22nd, 2018: the business of Soudabeh Haghighat, a Shirazi Baha'i who was arrested in September, has been closed, and authorities are not willing to remove the seal. According to the Iranian Human Rights Organization, Soudabeh Haghighat, a Baha'i resident of Shiraz, was one of six people arrested in Shiraz by the Iranian Intelligence service on September 15th and 16th for propaganda against the regime. The number of detainees reached seven in the following weeks; they were released on bail a few weeks later at different times.
Soudabeh Haghighat is a graduate in Child and Family Mental Health from City University of London who has been doing child and family counseling at a counseling center under the auspices of the Welfare organization.
The counseling center is run by a non-Baha'i, and Mrs. Haghighat worked there before her arrest It was temporarily sealed; after the removal of the seal and Mrs. Haghighat's release, it was no longer willing to work with her.
Soudabeh Haghighat, prior to her arrest, accepted clients from the Baha'i community and advised them in a residential area. This site was also sealed on Saturday, November 10, one month after her temporary release. Security officials were not willing to break the seal up to the time of preparing this report.
In the constitution of Iran, Bahai faith is not recognized as a religious minority, and officials in various forms harass this religious minority solely for the sake of their beliefs. Baha'is in Iran have no right to study at college; their businesses are closed, their cemeteries are continuously destroyed, and believers in this religion are occasionally arrested for imaginary reasons.
Around 60 Baha'i students faced a "flaw in their dossier" on the site of University Entrance Exam Organization in August of this year; after referring to this organization, they realized that this was because of their belief in the Baha'i Faith, and that as long as they believed in this religion, their dossier would not be completed.
Also, earlier in November of this year, the body of Ms. Shamsi Aghdasi A'zamian, a recently deceased Baha'i, was exhumed from her grave in a cemetery near Damavand, and was left unburied in the surrounding desert. This took place after local authorities warned the Baha'i community not to bury their dead in their own cemetery.
In November of this year, after a Baha'i religious holiday, in the city of Ahwaz the businesses of 5 followers of this religion were sealed; until the time of this report, the seals had not been removed.
According to the International Covenant on Civil and Political Rights, to which Iran has agreed, freedom of religion includes "the freedom to have or to adopt a religion or belief of one's choice, and freedom, either individually or in community with others in public or private, to manifest this religion or belief in worship, observance, practice, and teaching."
The names of Baha'i detainees during the past five months in different cities of Iran (some of them remain in jail):
Shiraz
Dorna Esmaili, Negar Misaghian, Hooman Esmaili, Pejman Shahriari, Kourosh Rohani, Mahbub Habibi, Navid Bazmandegan, Bahareh Ghaderi, Elaheh Samie Zadeh, Ehsan Mahboube-Raheh-Vafa, Noora Pourmoradian, Soudabeh Haghighat, Niloofar Hakimi.
Mashhad
May Kholusi, Saghi Fadaei, Dori Amri.
Yazd
Mehran Bandi, Mehran Eslami.
Karaj
Maryam Ghaffarmanesh, Jamileh Pakroo, Kianoush Salmanzadeh, Peyman Ma'navi, Payam Shabani, Houman Khoshnam, Parvan Ma'navi, Elham Salmanzadeh.
Isfahan
Afshin Babalan, Anoush Rayeneh, Milad Davaran, Farhang Sahba, Bahareh Zaini, Sepideh Rouhani, Fujan Rashidi, Saham Armin, Farid Amini, Nasrin Khajeh, Mozhgan Khoshhal.
Tabriz
Shahriar Khodapanah, Kambiz Misaghi, Farzad Bahadori, Monica Alizadeh, Khayrollah Bakhsh.