Source: www.hra-news.org
Translation by Iran Press Watch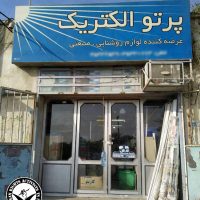 HRANA – Today, five businesses owned by Baha'i citizens in Sistan and Baluchistan province who closed their businesses for religious reasons were sealed by order of judicial authorities. Citizens are allowed to close their businesses for up to 15 days a year without giving a reason. However, the law is not observed for Baha'is, and law enforcement agencies and the Office of Public Places may seal their place of business on any religious occasion when Baha'is cease work.
According to HRANA, the news agency of Human Rights Activists in Iran, on Wednesday, October 30, five businesses belonging to Baha'i citizens were sealed in Chabahar by judicial order.
The names of these Baha'is are: Shamim Tohidi and Habibollah Tohidi, who owned optician's shops; Ahmad Ali Shokati, who owned an optician's shop; Bahman Gholamrezaei, who owned an electronics shop; Behzad Gholamrezaei, who had a plumbing business; and Behrooz Gholamrezaei, with a ceramics & tile business.
The locations of these Baha'i-owned businesses were seized under a judicial order and under the pretext of religious closure. The holiday was held yesterday to mark the 200th anniversary of the birth of Sayyid Ali Muhammad, the Bab, the prophet of the emergence of the Baha'i Faith.
A security agency today announced the detention of a number of Baha'i citizens in Shiraz in connection with a ceremony in this regard.
Baha'is, because of their religious beliefs, close their workplaces on Baha'i holidays. But law enforcement and security agencies seal their businesses, despite the specific legal rights and citizenship rights of individuals in the normal practice of their religious beliefs.
Sealing of Baha'is-owned business premises occurs even though under Article B of the Guild Organization, the owners of a business may close their place of work for up to 15 days per year without informing the organization.
Sealing of Baha'i-owned business in Iran continues, although Shahindokht Molaverdi, Special Assistant to the Iranian President for Civil Rights, told media in December 2017 that "Inquiries have been made from the president's legal deputy in relation to the sealing of business premises and the prohibition of the activities of Baha'is. We will continue this discussion through legal means until we find a solution for the matter."