Source: www.bbc.com
Translation by Iran Press Watch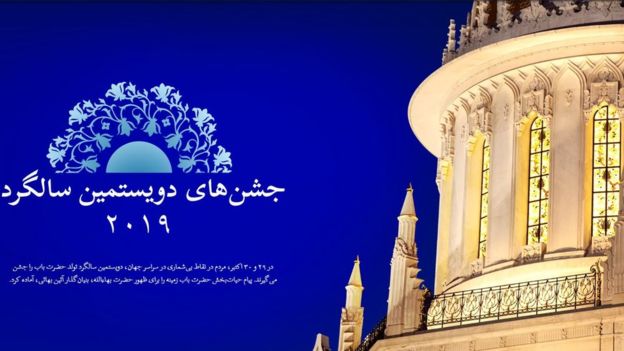 The media in Iran, quoting the IRGC intelligence organization, say this security-military institution has arrested a number of Iranian Baha'i citizens in Shiraz.
Quoting the IRGC, the media report that the arrested Baha'is in this operation "were disrespecting the Shi'ite mourning period for the Holy Family, secretly celebrating the birthday of the leader of their sect across the city of Shiraz". The announcement by IRGC in Fars province states that Baha'is "by targeting the principles of the Shi'ite sect are constantly trying to prevent the spread of the doctrines of pure Muhammadan Islam".
The Ministry of Intelligence also reported ten days ago of the crackdown and arrest of a group of Baha'is in Shiraz.
On the 29th and 30th of October of this year, Baha'is celebrate the 200th anniversary of the Birth of Ali Muhammad, the Bab, who was born in Shiraz. Baha'is believe that Ali Muhammad of Shiraz, known as the Bab, was the forerunner of Baha'u'llah, who is the founder of the Baha'i Faith.
Besides the cases in Shiraz, the increased persecution and arrest of Baha'is has also been reported in Tehran. HRANA (Human Rights Activists News Agency in Iran) reported that two days ago Jamal Sabet, a Baha'i citizen in Tehran, was arrested by agents of the Intelligence Ministry and taken to an unknown location.
According to that report, Mr. Sabet's arrest followed the agents' arrival at a private gathering and hours of interrogation of the guests, videotaping and search of the premises, confiscation of the host's belongings and then a search of Mr. Sabet's home.
Baha'i citizens in Iran are deprived of freedom of religious belief. Similar restrictions are also faced by Sunni Muslims in Iran in areas with a Shi'i majority population, to the extent that the government of the Islamic Republic of Iran refuses to issue a permit to Sunni Muslims for construction of a mosque in Tehran.
In the past four decades, the intelligence and security agencies of the Islamic Republic have persecuted hundreds of Baha'i citizens.
Government-sponsored human rights organizations claim that the Islamic Republic of Iran is oppressing the Baha'is for security reasons, but the main reason for this situation is the detainees' beliefs and observance of their religious practices.