Source: irannewswire.org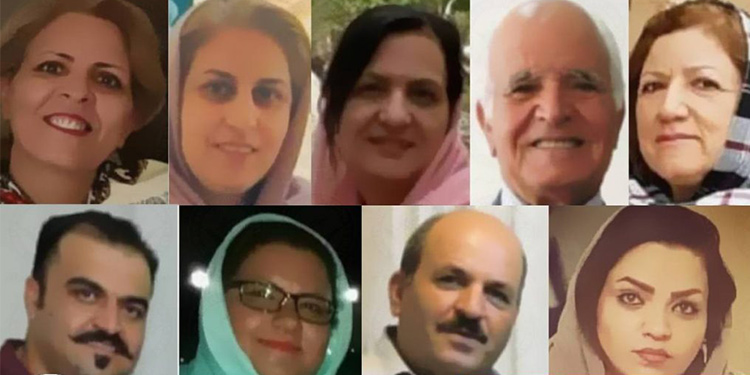 A court in Iran sentenced eight Bahai citizens to a total of 11 years and 3 months of prison in an eastern province.
According to the Human Rights News Agency, the eight men and women have been identified as Atieh Salehi, Nasrin Ghadiri, 60, Banafsheh Mokhtari, Farzaneh Dimi, Arezu Mohammadi, and Ataollah, Roya, and Saeed Malaki. The Bahai citizens were tried by the 4th Branch of the Southern Khorasan Appeals Court. They were originally sentenced to a total of 51 years and 8 months of prison.
The verdict, issued on September 7 by the Appeals Court, sentenced Nasrin Ghadiri, Banafsheh Mokhtari, and Farzaneh Dimi to 15 months of prison each. They were charged with "membership in the illegal Bahai organization which is a threat to national security".
Arezu Mohammadi, Atieh Salehi, and Ataollah, Roya and Saeed Malaki were each sentenced to 18 months of prison for the same charge.
According to an informed source the Bahai citizens were arrested during an occasion to mark the 200th birthday of Bahá'u'lláh, the founder of the Baha'i faith.
The source said that on that day, Bahai businesses were shut down all over the country and many were arrested.
"Bahais in Birjand were not immune to these raids. Security forces raided their homes in October 2017 and confiscated some of their belongings. These citizens were tried on April 20. Their sentences were published on the (Judiciary's) website on April 23."
Nine other Bahai citizens in Birjand were detained and sentenced to prison in July 2019. They detained to serve their sentences in January.
Iranian Bahais are deprived of freedom of religion as stated in Article 18 of the Core International Human Rights Treaties.
"Everyone has the right to freedom of thought, conscience, and religion; this right includes freedom to change his religion or belief, and freedom, either alone or in community with others and in public or private, to manifest his religion or belief in teaching, practice, worship, and observance."
Unofficial sources say that there are more than 300,000 people following the Bahai Faith in Iran. However, the Constitution of the Islamic Republic of Iran only recognizes Islam, Christianity, Judaism, and Zoroastrianism and does not recognize Bahaism.
Since the 1979 Islamic Revolution in Iran, Iranian Bahais have been systematically persecuted as a matter of government policy. During the first decade of this persecution, more than 200 of Iran's Bahais were killed or executed. Hundreds more were tortured or imprisoned, and tens of thousands lost jobs, access to education, and other rights – all solely because of their religious belief.
The persecution of Iran's Bahais is still ongoing with dozens of Bahais languishing in prisons throughout Iran.