Source: www.zeitoons.com
Shiva Nazarahari
Translation by Iran Press Watch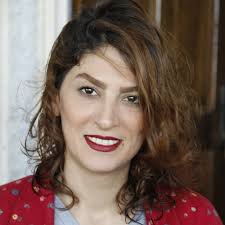 This year's controversial nationwide university entrance exams, in the middle of the coronavirus outbreak and after several delays, was carried out in the middle of the summer. Now the final results have been announced. The results show that, as in all the years of the last four decades, a number of candidates have been barred from continuing their studies at university due to their Baha'i faith.
These candidates have encountered the familiar message "Incomplete Application" on the Assessment Organization's website. On the candidates' personal site profile, it is stated that they can contact the Assessment Organization to follow up on the issue. However, experience has shown that contacting the Assessment Organization is not going to give them back their right to an education, and being a Baha'i is a feature for which they must say goodbye to education at Iranian universities.
Although the Iranian government has never officially acknowledged the deprivation of Baha'is from their right to education, and in recent years a handful of Baha'is have been able to attend university, as a tool to prove the government's claim that no one is barred from continuing their education simply because they are Baha'is, a secret document, discovered during the visit of the UN Special Representative Reynaldo Galindo Pohl's to Iran in 1991, reveals that the official policy for treatment of Baha'is in the Islamic Republic is based on efforts to block their progress and development. That is why not only are they not allowed to receive higher education, but also a number of those who study or teach at the online Baha'i university (Baha'i Institute for Higher Education), face legal action.
Regarding their civic standing in Iran, it is said in this document that they may enroll in schools if they do not reveal that they are Baha'is and, to the extent possible, enroll in schools that have a cadre who is skilled in ideological issues, possibly meaning that school staff can lead religious persuasion of the student. But they are treated differently at university, according to the document; when it becomes apparent that an individual is Baha'i, whether at the time of entering university or when already enrolled, they must be expelled from the university. They are also not allowed to be hired for influential posts such as teaching positions. On the other hand, in Resolution No. Seven of the Supreme Council of the Cultural Revolution, it states that the only candidates who have the right to enter universities are those who, in addition to meeting admission criteria by passing the entrance exam, believe in Islam or another "divine religion ‒ however, the Baha'i Faith in Iran is not considered a divine religion.
Since the Cultural Revolution expulsion for those tagged as having an "incomplete application"
The issue of depriving Baha'is of education is not a new one. They were expelled from schools and universities after the revolution, immediately at the beginning of the Cultural Revolution. After that, due to the necessity of declaring one's religion in the entrance exam registration form, and since Baha'is were not among any of the officially recognized religions of the country, they were forced to leave this section empty, which meant that they could not get the entrance card for the entrance exam session.
This issue continued until 2005; it was in this year that after many protests, the Religion field on the national examination form was finally taken out by the Assessment Organization and the Baha'is were able to participate in the national entrance exam. However, the notification of the entrance exam results were quite different from other candidates for Baha'is. They never received their results, and a number of candidates living in Tehran, after contacting the Karaj branch of the Assessment Organization, found that they could not continue their education because of their religion. Some who were able to enter university were later identified as Baha'is and expelled. Since 2006, however, the term "incomplete application" has become a familiar term to Baha'i candidates. Every year, several hundred Baha'i candidates are confronted with this phrase when they expect to receive the results of their entrance exam, and are deprived of their right to higher education, which is one of the most basic human rights.
Baha'i Institute for Higher Education
Deprivation of education is not the only form of discrimination against Baha'is. Thirty-three years after the establishment of the free Baha'i Institute for Higher Education, its professors and students continue to be arrested and face harsh court rulings. This institution was established in 1987 with the aim of providing educational facilities to Baha'is so that Baha'i students deprived of an education could continue their education. However, it has turned into an underground secret institution over the past several years, with online classes in an environment in which study and teaching at this institute is considered a crime.
From the beginning of its activity, the free Baha'i Institute for Higher Education acted as a distance learning university, and professors and students did the lessons and assignments via correspondence through the postal system. Then, little by little, they were able to hold in person classes. However, between 1987 and 2004, the local homes that were used to hold the classes were repeatedly attacked and their educational apparatus and textbooks confiscated. The university's academic and administrative staff were arrested, and some of them received heavy prison sentences. In the last round of attacks on the classrooms and buildings of this institute, which took place in 2011, agents arrested a large number of professors of this university. This took place even though according to Article 30 of the Constitution of the Islamic Republic of Iran, "the government is obliged to provide free educational facilities for the whole nation to the end of high school and expand higher education free of cost to the extent that the country has the means to provide."
Four decades after the Cultural Revolution, Iran seems to be one of the few countries in the world where a religious minority is systematically and officially discriminated against by the government, and efforts are made to prevent them from progressing in any way to the extent possible. Meanwhile, to the extent that when a number of these Baha'i students, who had been deprived of their education protested in the 2000s against the violation of their rights and formed a committee to facilitate the pursuit of Baha'is' right to education, they faced the most severe security crackdowns, and many of them were sent to prison for years.
Iqan Shahidi is one of these activists; he spent five years in prison for following up on Baha'i students' right to higher education. Referring to the barring of a number of Baha'i candidates from this year's university entrance exam, he wrote on Twitter: "My mother, who was studying physics at Farah University, was expelled during the revolution and could never return to university. I passed the entrance exam in 2006, but, like thousands of other Baha'is, was subjected to the "incomplete application" outcome; I followed up and wrote letters; I was arrested and tortured and sentenced and served 5 years in prison. After 5 years, I still can't attend university."
Saina Shafizadeh is a university candidate added to the thousands of other Baha'is who have been deprived this year. She wrote on her Twitter account that while all her peers were attending university, she had been deprived of university education because she is Baha'i, by being hit with an "incomplete application."
Setareh Izadi, Kimia Manouchehri, Shahrzad Mohammadzadeh, Arya Sheikh Zavareh, Marjan Abbaspooli, Parsa Seyed Ahmad, Vahid Sadeghi, Faran Ghodratian, Mobina Hooshmandi, Arshia Eshraghi and Kian Laghai are other names that have been published on social media so far. University candidates who, despite meeting the score requirements and qualifying for the required rankings of their exam results, were excluded and prevented from attending university.
Two years ago, on 24 April, 2015, at a meeting of the Council on Foreign Relations in New York, Iranian Foreign Minister Mohammad Javad Zarif said that being a Baha'i was not a crime in Iran. He also said that no one in Iran is imprisoned for being a Baha'i. Earlier, Mohammad Javad Larijani, head of the judiciary's human rights, said that Baha'is, like other citizens, could live and study in Iran.