In some 40 years as a university professor, I have been privileged to teach students who went on to serve their people as senators, ambassadors, prominent scholars and even U.S. president. None of this would have been possible had I lived in my family's homeland of Iran. As a member of the Bahai faith, I would have been barred from teaching freely—and I might even have been imprisoned, as seven Bahai educators now are.

While many Iranian citizens are targets of repression by the current regime, the treatment of Bahais, the country's largest non-Muslim religious community, is a special case. Unlike Jews, Christians and Zoroastrians, who have certain limited rights under the Islamic Constitution, Bahais were declared unprotected infidels immediately following the Islamic Revolution of 1979.
Bahais have faced persecution in Iran since their religion was founded more than a century and a half ago, but it was never as systematic as in the last 30 years. Since the Islamic Revolution, more than 200 Bahai leaders have been put to death. The regime has outlawed Bahai institutions, confiscated their properties, desecrated their cemeteries, demolished their holy places. Bahais are subject to constant state-sanctioned pressure to recant their faith.
To stamp out that faith, Iranian Supreme leader Ali Khamenei approved the so-called Golpaygani memorandum in 1991. Photo copies describing plans to slowly strangle Iran's Bahai community were made public by the United Nations in 1992. One measure was to deny Bahais entry to universities, thereby impoverishing them intellectually and economically.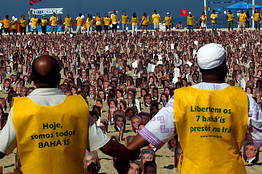 Bahais had already begun educating their youth, founding what became known as the Bahai Institute for Higher Education in 1987. In Tehran and beyond, Bahai professors—unemployable elsewhere because of their membership in what the mullahs called "the deviant sect"—taught languages, biological sciences, civil engineering, literature and even music. Classes were held in private homes, labs were set up in garages, and the Internet eventually provided access to resources abroad.
The institute avoided teaching about the Bahai faith or other religions, thus avoiding the possible accusation of proselytizing. It operated quietly but not secretly: No enterprise of such size—with thousands of students and hundreds of faculty—could be secret. No law prohibited instruction in languages, sciences, accounting and the like, so the institute didn't violate the letter or spirit of any law.
The institute's success frustrated the government. In spite of constant harassment, it achieved academic standards equal to or higher than those of state universities and was frequently recognized by foreign universities that admitted its students into masters and doctoral programs.
In 1996 and 1998, the regime raided homes where classes were held and confiscated equipment. In the second attack, agents of the Ministry of Information arrested 36 faculty and declared the institute closed. The regime demanded that the 36 sign a pledge not to cooperate with the institute. Not one complied.
The regime's latest assault began on May 22 with raids on 39 homes. Months later, widespread arrests and interrogations of faculty, staff and students continue.
This month, Branch 28 of the Revolutionary Court in Tehran sentenced seven Bahai faculty members to a combined 30 years behind bars. Meanwhile, a senior lawyer of theirs, Abdolfattah Soltani, remains incarcerated under suspicious circumstances.
Such repression is extreme but not isolated—Iran's regime targets other minorities as well as women, intellectuals and others. This makes many Iranians feel solidarity with their Bahai fellow citizens.
In an eloquent open letter to the Bahai community in 2009, 243 academics, writers, artists and human rights activists proclaimed, "As Iranian human beings we are ashamed for what has been perpetrated upon the Bahais in the last century and a half in Iran." That year, demonstrators on the streets of Tehran shouted slogans supporting religious minorities, including Bahais. Even Grand Ayatollah Montazeri—once an enemy of the Bahais—issued a fatwa to the effect that Bahais have every right accorded to Iranian citizens.
The rights of Iran's Bahais cannot be separated from the human rights of the general population. That journalists, artists and activists languish in jails; that students are excluded from universities based on their religion; that seven Bahai leaders have been condemned to prison for 20 years and seven Bahai educators now face a similar fate; that all Bahais are virtual outlaws in their native land—it's all part of a single assault on human dignity. One hopes the rest of the world won't close its eyes.
Mr. Kazemzadeh is professor emeritus of history at Yale and a former commissioner on the U.S. Commission on International Religious Freedom.
—
Source: http://online.wsj.com/article_email/SB10001424053111904875404576528761693875134-lMyQjAxMTAxMDIwNzEyNDcyWj.html?mod=wsj_share_email