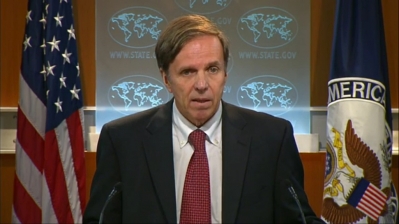 [BWNS, 27 May 2012] WASHINGTON, D.C., United States — Iran's human rights record continued to display "many negative trends" last year, according to a US government spokesman.
Assistant Secretary of State for Democracy, Human Rights and Labor, Michael H. Posner, described the current situation as "a very grim picture."
Speaking at the press briefing [pdf from IPW site] on the 2011 Country Reports on Human Rights Practices, Mr. Posner noted – among other abuses in Iran –intolerance of dissent, restrictions on freedom of speech, unfair trials, and extensive use of the death penalty.
He also particularly highlighted the 20-year prison sentences given to each of Iran's seven former Baha'i leaders. "It is a human rights situation that is very disturbing, and we'll continue to call it out," he said.
The 2011 annual report, [pdf from IPw site] released last Thursday 24 May, devoted some 77 pages to the situation in Iran, detailing a continued "crack down on women's rights activists, ethnic minority rights activists, student activists, religious minorities, and environmental activists" – including members of the Baha'i Faith.
One section describes, for example, how the constitution in Iran allows the government to seize property acquired "in a manner not in conformity with Islamic law" and how this law has been used to harass religious minorities, particularly Baha'is.
The annual Human Rights Reports assess each country's situation against universal human rights standards. Their findings inform U.S. policymakers and serve as a reference for other governments, international institutions, non-governmental organizations and other interested individuals.
Launching the report, U.S. Secretary of State Hillary Rodham Clinton said, "These reports, which the United States Government has published for nearly four decades, make clear to governments around the world: We are watching and we are holding you accountable. And they make clear to citizens and activists everywhere: You are not alone. We are standing with you."
—
Source: http://news.bahai.org/story/912