Published on Wednesday, May 14 , 2014
In May 2009 six of the former Baha'i community leaders (Yaran, or "Friends" of Iran) ˗ Fariba Kamal Abadi, Jamaluddin Khanjani, Afif Naimi , Saeid Rezaie, Behrouz Tavakoli and Vahid Tizfahm ˗ were attacked by security forces at their homes and arrested.  The seventh, Mahvash Sabet, had been arrested in March of 2008.
As reported by Saham News, last Monday on the sixth anniversary of the arrest of these leaders of the Baha'i community, family members of prisoners of conscience, plus a number of political and civic activists and a group of their former cell-mates attended a gathering.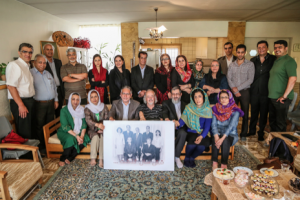 These people have been imprisoned for their beliefs
Narges Mohammadi, a human rights activist who spent some time with Fariba Kamalabadi and Mahvash Sabet at Evin (Prison), said: "These individuals are in captivity due to their beliefs; we have come to know them for their dignity and humanity.  Who does not yet know that these dear ones are not criminals and that they would never impose anything on anyone? We are ashamed, and do not know how to state the fact that these individuals are paying such a high price merely for their faith and beliefs.  Hopefully someday our society will reach its potential such that Baha'is too can hold jobs and get an education. In Iran, due to narrow exclusive policies of the government in all areas, from freedom of thought and ideology, to freedom of media, etc., we are witnessing such events."  Narges Mohammadi added: "I congratulate these dear ones for the pain they are suffering, because this pain is the cause of the influence of their words. We are confident that the pain with which they are burdened is due to beliefs that stem from their honesty, and this price they are paying is for the same reason."
The heavy weight of prejudice was removed from me
Mohammad Nurizad, who was also present in this gathering, while expressing sorrow about the imprisonment of the leaders of the Baha'i Community, reminded us that: "Until I went to prison, I carried those heavy weights of prejudice, but after I was freed from prison, these heavy weights were removed and my view changed.  Right now I think each of us should in some way express our shame, because of the pain these dear ones are enduring due to their belief."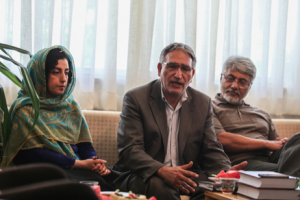 Each of us have suffered from the cruelty of  tyrant in some way
Isa Saharkhiz, political and media activist in Iran, also shared some of his memories from the days of his incarceration along with Mr. Tavakoli and said: "In a way, I have lived with these seven dear ones.  When they brought me for visitation, I was in the same bus as Mrs. Sabet and Mr. Kamalabadi, and inside the prison I was very close with Mr. Tavakoli, and I got to know the rest of the friends as well.  I believe if we are to bow our heads in reverence, we need to bow down our heads to the overwhelming majority of the Iranian people, because a small minority has imposed itself on them.   The injustice done to Baha'is is in a way perpetuated towards Christians, Zoroastrians, and others; each of us have suffered from the cruelty of the tyrant in some way. But the reality is that in tyrannical regimes, every idea is not accepted; every person who thinks humanely will not be dealt with humanely. Right now a new round of arrests has begun to state that the recent political changes have had no role in the country, and that only one person is the decision maker (TN: referring to the Supreme Leader Khamenei) . These friends have always been at the forefront in assuming responsibility; whatever they do is for the sake of humanity. "
Mahvash and Fariba have maintained their morale with reliance on the word "perseverance"
Nasrin Sotoudeh, one of the attorneys  detained after the 2009 elections, said: "With a glance at the history of the past 35 years in Iran, we can say that the disparity in opinions has in a way gone down.  Today's conditions are such that our high ranking politicians claim that they do not imprison anyone for their ideology, and that no one is in prison for being a Baha'i.  Similarly, we have many fatwas including that of Ayatollah Sistani's.  As it relates to the record of our Baha'i Friends we now have the opinions of Ayatollah Montazeri, Ayatollah Sanei and Mr. Fadel Meybodi, whose opinions the religious community of Iran cannot ignore.  In addition, after the year 2009, more space for unity was provided.  We know very well that friends such as you (TN: Baha'is) do not think much about the shift of power, and that for this reason they have endured more pain.  Up to last year we did not have the opportunity to hold such gatherings, and could not even speak about our common pains. But now we are pleased to have come together.  On the other hand, it is better to pay a bit of attention to the Universal Declaration of Human Rights, which refers to pain and suffering.  Mahvash and Fariba have maintained their morale with reliance on the word perseverance, and are going forward with high spirits.  We have come together now for ourselves, not for anyone else.  We are together because of the oppression of the Baha'i community which our parents did not even consider."
Mr. Soltani was concerned about ethnicities and minorities
Ma'sumeh Dehghan, the wife of  Abdolfatah Soltani,  one of the detained attorneys, was present at this gathering.  She conveyed her husband's regards to the attendees, and her husband's emphasis on the issue of human rights.  She said: "We are moving forward, and this gathering is an indication of this.  Ever since Mr. Soltani stepped in the world of ethnicities and minorities, I became more familiar with people's thoughts, especially that of various ethnicities and minorities.  He was always concerned about various  ethnicities and minorities, and right now that he is in prison, his actions are in a way out of respect for the issue of human rights and the importance of this issue.  He has always warned me against being blinded by prejudice, and emphasized that human beings should view other human being as children of God.  Now I would like to convey to you the greetings of Mr. Soltani and tell you that he always asks about you and about your wellbeing."
Understanding was the outcome of the 2009 Elections
Zhila Bani Yacob , a journalist and former prisoner, also recollected her memories of Mahvash Sabet and Fariba Kamalabadi , and said: "The product of the 2009 elections was our better understanding towards each other, and this was always the topic of discussion between Fariba and me in prison.  Fariba is amongst those who are in excellent spirits in prison; no one would guess that she has a sentence of 20 years. She always had extraordinary tranquility; I always asked her the secret of her tranquility.  She told me that I have great faith in the path that I'm on, and the fact that I see the extent to which imprisonment has had a positive impact on my path causes me to always be calm.  Where else would I have ever had the great opportunity to meet you, or the many people who have come and left the prison first hand?  Mahvash also always had an amazing love in her heart.  But the point that I want to say is that the tribulations of the Baha'i community was always important to me; when I was in prison, I became intimately familiar with their ordeals. It is true that we say we all have been oppressed, but when I looked at my Baha'i friends in prison, it was as if something would squeeze my heart. Because I thought that at some point the rest of us confronted the government, but these people have not even done this.  They just want to hold their own belief, and are in prison for this.  I am truly sorry for the injustice that they are suffering."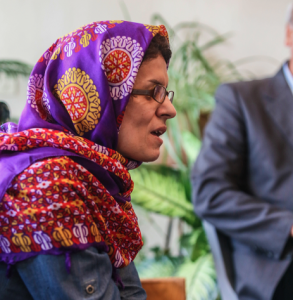 The circle of hardships has always been harsher for Baha'is in Iran
Ismail Abdi, a Member of the Association of Teachers, pointed to the difficulties that Baha'i face in the field of education, saying "Since the beginning of the Revolution, The government began to sanitize the field from Baha'i teachers in such a way that no Baha'i teacher had the right to teach in schools anymore.  Slowly this move included the students as well; they were harassed in neighborhood streets and even while in school, and this was merely due to their belief.  This injustice against the Baha'i community has even been recorded in Iran's history.  We are sorry that our fellow citizens are being denied jobs because of their faith, the circle of hardships has always been harsher for Baha'is in Iran."
Naser Ashjari, a civic activist, was also present in this gathering; he criticized the harsh conditions present for the Baha'i community, and said: "It is true that I believe in secularism, but secularism does not mean anti-Baha'ism, anti-Shi'a, anti-Sunni, and in general it is not anti-religion.  We must learn to respect each other's ideas and beliefs. This is the second time that I am present among Baha'is.  The first time was before the revolution; now is the second time that I am in your presence, and I am very pleased about it.  The views held about Baha'is by the people before the revolution, and even up to sometime after the revolution, was such that people were afraid of these individuals, but now that we have gathered together, it is a great step forward."
In another  part of the gathering, Ayatollah Masumi Tehrani said: "Views should be changed; I believe now is a good time, not to the extent of exerting pressure or consultation, but something in-between these two, held  with a number of extremist clerics in Qom, to address freedom of expression and belief, so that each of us can be free to hold our own thoughts in our country."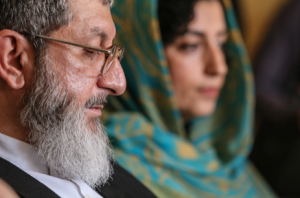 The mother of martyr Mostafa Karim Beigi also attended the gathering; she pointed to one common suffering, and said: "We should not view each other in isolation; we all are suffering from one common pain. Prior to Mustafa 's martyrdom, I did not have a lot of familiarity with many issues, but after the death of Mustafa I met a lot of people . I met Farzad Kamangar's family in Kurdistan, and the mother of  Satar Beheshti in Tehran, and this is why I say that we all share this common suffering no matter where we are; you (TN: Baha'is) should not see yourselves apart from us."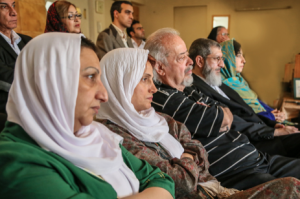 We should work on common principles such as freedom
At the end Dr. Maleki pointed to his pre and post revolution memories, and the suffering that has been imposed on Baha'is, and said: "I am well aware that Baha'is are barred from going to universities in Iran; when I became responsible for Tehran University, my first condition was that I would not differentiate between any of the students, and they all should be able to learn. My complain is that some friends think the tyranny, oppression and murder started in 2009, but this is not the case.  Therefore I beg of you to review the 36 year history of blood and violence (TN: referring to the inception of the Revolution to today).  In 2009 everyone participated, there was no distinction between who was a Muslim or a Baha'i, and everyone stepped out.  So while I honor the suffering of the Baha'is over the years, I want to say that we must respect all groups in the country.  I heard many things about the kissing the forehead of Taraneh; however I would do the same ten more times, and I repeat that we must respects all and put aside categorizing people.  It is not important if someone is a reformist or not.  What is important is to be able to respect the opposition's opinions.   We should not work against each other in society, because this will move us away from our goals and will not get us anywhere.  We should work on common principles like freedom."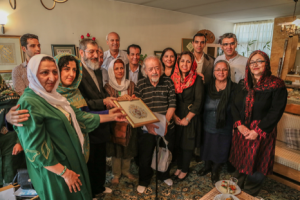 A photo of the leaders of the Baha'i Community (Yaran) was signed by the attendees as a commemorative gesture; Ayatollah Masumi Tehrani, who was present in this gathering, presented a picture as a memorial to the Tavakolli family.  At the end Abdolfatah Soltani, Mahnaz Parakand, Shirin Ebadi and Mr. Ismailzadeh were mentioned and remembered.
—
Translation by Iran Press Watch