Source: http://www.payvand.com/news/14/jun/1152.html
By Golnaz Esfandiari, RFE/RL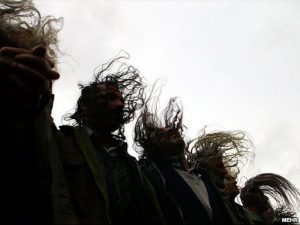 Majzooban.org, a website dedicated to news and information about the Gonabadi dervishes in Iran, has been blocked more than 40 times since its launch in 2007.
Iranian authorities have also arrested most of its founders.
The website is an example of dozens of sites, social-media networks, and online communities that religious minorities in Iran depend on to make their voices heard, practice their faith, highlight abuses by the state, and reach out to potential followers.
A new report by the London based non-profit group Small Media says the Internet is playing an "essential role" in empowering Iran's repressed religious minorities who are banned from public places and platforms.
Among the minorities are the Baha'is, who are not recognized in the Constitution of the Islamic republic; evangelical Christians, who can face the death penalty for converting from Islam; and Sufis, such as the Gonabadi dervishes, who have come under attack over their interpretation of Islam.
Ahmed Shaheed, the United Nations special rapporteur on the human rights situation in Iran, wrote in his March report that Baha'is are "almost exclusively" prosecuted for facilitating educational services and publicly engaging in religious practices. Shaheed wrote that Christian converts have also faced a similar pattern of persecution. He also noted increased state pressure on Sufis and also Sunni Muslims who face limits in their religious practices.
The report by Small Media, titled "Heretics," says these groups have turned to the Internet to create faith networks that span not just Iran, but the world.
The increasing use of the Internet by these groups comes amid state filtering of all their major websites.
"As the Iranian state cracks down on Christian and Baha'i evangelism and minority political activism on the ground, it is simultaneously waging a war against religious minority communities online and on the airwaves," the report notes.
Countering Oppression With Creativity
Despite this ongoing war, religious activists are migrating to cyberspace in an effort to evade state surveillance and get news of the state's human rights abuses out to the international community.
James Marchant, research manager at Small Media, said religious communities are using the Internet and satellite channels creatively in the face of the state oppression they face.
Marchant told RFE/RL that different groups make use of online technology based on their needs.
"For the Baha'i community, one of their greatest issues is the lack of access to [university] education," he said. "And so they've set up the Baha'i institute of Higher Education [BIHE], connecting Baha'is in Iran to Baha'is around the world, faculty students, and providing Baha'is with an education."
BIHE has increasingly been using the Internet — including the organization of online and Skype-based courses — to educate young Baha'is. It has been targeted by Iranian authorities who have arrested a number of its staffers over the years.
Evangelical Christians are developing "some of the most innovative and imaginative forms of resistance to state pressure," the report says.
Marchant says televangelism, chat-room evangelism, distance learning, and closed Facebook groups, are among the platforms used by Christians to spread the word in Iran.
An unnamed Iranian pastor is quoted in the report as saying that online churches are working alongside house churches that have faced police raids.
"They are an important tool to support us in our work, but there is no substitute for ministering personally to Christians," he said.
The pastor also said that many evangelical Christians use the social networking site Facebook.
Farhad Nouri, who serves as editor in chief of majzooban.org from outside the country, told RFE/RL that the Internet has allowed Sufis to inform others about state crackdown more quickly and to reach a wider audience.
At the same time, he says, Sufis active in cyberspace have come under attack from Iranian authorities.
The Small Media report says recognized minorities — including Jews, Christians, and Zoroastrians — who are free to perform their rites and ceremonies within the laws, use the Internet mostly for cultural purposes and also to connect with the diaspora.
Their major websites remain unblocked, according to the report by Small Media.
---
Copyright (c) 2014 RFE/RL, Inc. Reprinted with the permission of Radio Free Europe/Radio Liberty, 1201 Connecticut Ave., N.W. Washington DC 20036. www.rferl.org
… Payvand News – 06/23/14 … —