Source: persian.iranhumanrights.org/1393/04/sarang-ettehadi/
Translation by Iran Press Watch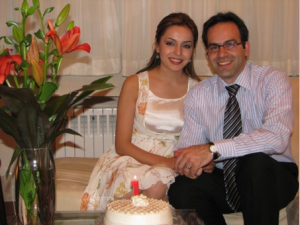 Sarang Etehadi*, a Baha'i citizen, told the International Human Rights Campaign in Iran that on 06 July he was asked by telephone to report to Evin Prison Court within one week to serve his sentence.  This Baha'i citizen was sentenced to one year imprisonment because of propaganda against the regime by participating in a  Baha'i prayer service.  His Baha'i wife was also transferred to Evin Prison on May 6th of this year.
This Baha'i citizen, who is planning to report to the Evin Court within a week, told the Campaign: "On 6 July the Sentence Fulfillment Section contacted my father, who put up my bail, and requested that I report to the court within one week to serve my sentence.    I will definitely go, since my spouse also reported to prison on May 6th to serve her one year sentence.  So when I go, at least our sentences will be completed almost at the same time and then we can live together in peace."
Sarang Etehadi and his wife Nasim Ashrafi were arrested in their home by the Intelligence and Security Forces on the morning of 12 July 2012.  Sarang Etehadi was tried on 15 January 2014, the 28th Branch of the Revolutionary Court under the command of Judge Moghaiseh.  Although his charges were "propaganda against the regime", in the sentencing issued by this Judge, the charges of "membership in the Baha'i Administration to jeopardize the National Security" were also added and for this reason he was sentenced to five years imprisonment.  The lawyer of this Baha'i Citizen appealed this sentence and eventually he was acquitted on charges of "Membership in Baha'i Administration" by the 26th Branch of the court, but was sentenced to one year imprisonment, on charges of propaganda against the regime.
This Baha'i Citizen protested the investigation and trial process, and said: "During the course of the investigation they told us 'You are not Iranians and you should leave Iran.'  The interrogation process and the verdict were not fair at all.   Religious activity is not propaganda. I have never acted as an insurgent against the regime nor taken up arms against the state All my activities have been peaceful; I had nothing to do with the government at all. We were engaged in our own religious activities.  But in our case, confessions and legal proceedings were not considered."
Regarding the course of his trial and the charges against him in the Revolutionary Court, Sarang Etehadi said: "The judge asked me: 'Are you part of the Baha'i community?' I responded "Yes.' 'What programs were you involved with?' I told him 'Prayer services with my fellow believers.' He asked, 'Did you also invite Muslims?' I replied 'No.' He said 'Since you engaged in activities with Baha'is, then this is administrative work, and since Baha'i administration work is illegal, then you are charged with membership in an illegal group.'  I pointed out 'But our prayers are not propaganda against the regime.'  He did not answer. He just repeated that the Baha'i organization is illegal."
Nasim Ashrafi, a Baha'i and the wife of Sarang Etehadi, was tried in a separate court on charges of propaganda against the regime, and was sentenced on 15 January 2014 to imprisonment for one year.  She was arrested in the street by security forces on 6 May 2014, and was transferred to Evin Prison to serve her sentence; she currently is serving in the women's ward of Evin Prison.
Regarding his wife's charges, Sarang Etehadi said: "The charge of propaganda against the regime for my wife was supposedly due to teaching the Faith and attracting Muslims through establishing Junior Youth Groups; however these classes only teach how to study better and how to live a morally better life."
Sarang Etehadi mentioned his wife's severe health issues, and said: "My wife suffers from severe spinal cord deviation, which occurred before she went to prison a previous time, right before the Iranian New Year (on 21 March); she suffered from an allergic shock ̵ which is a very dangerous shock ̵ and can lead to death.  Before the New Year we received a letter from the Office of the Prosecutor for her to have a medical exam in the Tehran medical examiner's office.  They confirmed that Nasim requires medical treatment in a stress-free environment, and that her treatment should be outside the prison.  Our hope was that with the approval of the Medical Examiner, they would no longer require her to serve her sentence, but on 6 May, as she was on her way home from the medical labs, she was arrested in the street."
* For a short article on the  sentencing of Sarang Etehadi, see http://www.newsyoushare.com/post.aspx/one-baha-i-sentenced-to-5-years-in-tehran-iran-2287