Source: Taghato (Intersection),  http://taghato.net/article/7417
Translation by Iran Press Watch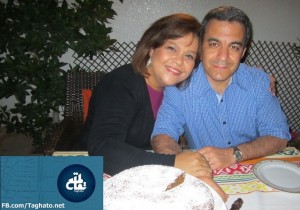 Date: July 15, 2014
Taghato: Continuing with arrests and imprisonments of Baha'is in Iran, another Baha'i couple is headed to Evin and Rajai Shahr prisons – within one month – to start their prison terms.
Based on reports, Shomeys Mohajer, a Baha'i citizen residing in Tehran who had previously been sentenced to one year imprisonment, was transferred to the women's political and ideological ward of Evin prison on June 28th.
This happened under conditions in which Mrs. Mohajer's husband, Shahab Dehghani, had also started his four year prison term, on May 24th. Mr. Dehghani was transferred to Rajai Shahr in Karaj one day after turning himself in to Evin prison.
This young Baha'i couple had been arrested in summer 2011 after security forces invaded their home, and they were later freed after bail was set.
The couple were later accused of "propaganda against the regime" and "forming an illegal group" by Branch 28 of the Iranian Islamic Revolutionary Court headed by Judge Moghiseh. They were subsequently sentenced to one and four year imprisonments, respectively. These sentences were confirmed by the Appeals Court.
In a conversation with the "International Campaign for Human Rights in Iran", Mrs. Ruhollah Fada – Shomeys Mohajer's mother – denied all the charges against her daughter and son-in-law and mentioned that the reason for their arrests was their open expression of their beliefs and attending Baha'i prayer gatherings. She said: "Thank God, my daughter is doing well. There are eight other Baha'i prisoners in the women's ward of Evin prison and she is not lonely there. I have nothing else to say. I am not grieved and this will pass."
Meanwhile, sources close to Baha'is also reported the arrest of Saghi Fadaei – a young Baha'i girl residing in Mashhad – by agents of the Ministry of Information in that city.
Ms. Fadaei's arrest was done 35 days after a search of her home and the incarceration of her mother, May Kholousi, on June 2nd, at which time two other Baha'i citizens named Shayan Tafazzoli and Dori Amri were also arrested.
Moreover, on Thursday, July 3rd the "Supporters of Human Rights" website reported that Branch 1 of the Iranian Islamic Revolutionary Court in Oroumieh, headed by Judge "Chabok", sentenced seven Baha'i citizens to a total of 20 years' imprisonment.
According to this report, 3 of these 7 citizens – Fardin Aazayee (Aghsani), his wife, Farahnaz Moghadam and Guisou Sheykh Hassan Abadi – were sentenced to one year each for "teaching activities on behalf or the Baha'i sect" and "propaganda against the Islamic Republic Regime" and five years each for "assembling and planning against national security" through "membership in the Baha'i cult and relations with the Baha'i House of Justice in Israel".
The court also sentenced four Baha'i citizens – Neda Forsatipour, Amir Maboudi, Nooshin Misaghi and Soheyla Aghdasi – to 6 months' imprisonment each, for "teaching activities on behalf of the Baha'i Faith."