Source: Khodnevis, http://goo.gl/D1G0Ak
Translation by Iran Press Watch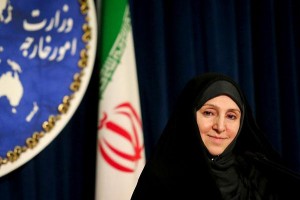 Reaction of the spokesperson for the Islamic Republic's Ministry of Foreign Affairs to the US report on religious discrimination in Iran
July 30, 2014
Arezou Fooladvand
Rejecting the US State Department's report on religious freedom in Iran, Marzieh Afkham claimed that the United States is "one of the biggest violators of religious rights" in the world.
Based on reports from the Mehr News Agency, Marzieh Afkham – spokesperson for Iran's Ministry of Foreign Affairs – claimed that the US State Department's report regarding religious freedom in the world – particularly Iran – lacks credibility.
Referring to a rise in anti-Islamic sentiment in the US, Afkham said: "Systematic discrimination against Muslims and limits on the religious freedom of minorities in American society have turned that country into one of the greatest violators of religious rights."
The spokesperson for the Ministry of Foreign Affairs added: "Respect for all divine religions* and freedom to practice their religious rites and ceremonies is explicitly stipulated in the Constitution. The Islamic Republic of Iran has always defended these stipulated laws, and Islamic principles have made defense of the followers of other divine religions and their common values a top priority.
Marzieh Afkham defended the position of Iran regarding religious minorities, even though in the past few days the Sunni residents of some cities in Iran were summoned, arrested and in some cities attacked during their religious ceremonies.
The annual report on religious freedom that was published on Monday listed Iran one more time, among countries like Saudi Arabia, North Korea, Eritrea, Sudan, Turkmenistan, Uzbekistan and China in which religious freedom is restricted, as "Countries of Particular Concern".
Based on this report, Iran has intensified its many limitations on followers of other religions. The report also refers to types of punishment, trial processes, and the large number of religious prisoners such as Christians and Baha'is.
Marzieh Afkham rejected the US' report regarding lack of religious freedom in Iran, ignoring the imprisonment of more than 100 Baha'is and widespread arrests and pressures on Sunni religious activists due to their religious beliefs.
According to a 2013 report by the international Open Doors Foundation, Iran was listed among the top 10 countries persecuting Christians.
Iran considers this report devoid of credibility at a time when several Gonabadi Dervishes, Baha'i citizens, Christians and Sunnis are all in prison for their religious activities.
*Article 13 of the Iranian Constitution states: "Zoroastrian, Jewish, and Christian Iranians are the only recognized religious minorities, who, within the limits of the law, are free to perform their religious rites and ceremonies, and to act according to their own canon in matters of personal affairs and religious education." Members of religions not included among these three are often persecuted. Moreover, according to Article 12: "The official religion of Iran is Islam and the Twelver Ja'fari school [in usul al-Din and fiqh], and this principle will remain eternally immutable. Other Islamic schools, including the Hanafi, Shafi'i, Maliki, Hanbali, and Zaydi, are to be accorded full respect, and their followers are free to act in accordance with their own jurisprudence in performing their religious rites. " Sufis, Ahmadis and members of other Islamic groups not included in the list are often persecuted for their beliefs. These quotes are from the official Iranian translation of the Constitution, at http://fis-iran.org/en/resources/legaldoc/constitutionislamic