Source: hra-news.org
Translation by Iran Press Watch
A point of view which has not yet changed since at least 30 years ago.
HRANA (Human Rights Activists News Agency) – Ramin Zibaei* is a Baha'i Institute for Higher Education (BIHE) professor who has been sentenced to 48 months in prison for the crime of teaching at this Baha'i college, whose daughter was recently prevented from continuing her education, and who is currently incarcerated in Ward 12 of Raja'i Shahr prison in Karaj.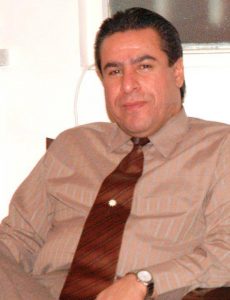 He has written a letter to the people of Iran which has been provided to HRANA, the full text of which is printed below:
A point of view which has not yet changed since at least 30 years ago.
My fellow Iranians why are you at ease?  For what reason have you closed your eyes? Take a look around; prepare your ears to hear the voice of the deprived.  The sound of our silence has reached the sky, you have seen it and heard it but you easily let it go, or did not realize what has descended on the deprived; but now that you are aware – you tell me – why, after 30 years have passed, has your point of view not yet changed?  About 30 years ago, when I wanted to complete my diploma, my high school teachers' attention were fixed on the particular field and the university into which I would be accepted, oblivious to the fact that the nationwide examination process had added a religion column and would not allow me even to take the qualifying exam because I am a Baha'i, let alone enter the university.  Therefore I was barred from entering university due to my faith; yet I dared hope that in the near future this point of view and misunderstanding would be resolved, so that I and other Baha'i youth, just like the rest of you, my dear fellow Iranians, would be given back our natural rights to higher education.  Eventually this hope turned into despair, and I eventually accepted the truth, that this change of heart would not be a reality for my generation, who should have entered university in the 1980s. Nevertheless, I continued to be hopeful that this basic right would be available to the next generation.
Therefore I kept the fire of love of learning alive in my children, and prepared and encouraged them for higher education. In this path I began to teach in the Baha'i Institution for Higher Education (BIHE), so that Baha'i youth would not be deprived of knowledge of the latest sciences. Ultimately, because of my efforts at teaching at BIHE, I have now been incarcerated in this prison for the last three and a half years.  Unfortunately, though it has been at least 30 years since my generation, it can be observed that in this year's nationwide examination too, my daughter, due to her belief in the Baha'i Faith, under the excuse of having an "Incomplete Application", was barred from entering university.
Now, my dear, tell me what kind of a spiteful point of view do you hold towards me, which has prevented two generations of students just like me and my daughter from the most basic right of any Iranian – and how long will this continue? Is there any hope that our third generation – I mean the children of our children – will not fall victim to this discrimination? Are we not born and bred in the same land? Don't we – you and I and our children – together constitute this nation?  Does not belonging to the same land – our beloved homeland – bind us together as Iranians?  Have we not always prided ourselves on being Iranians? Do you ever think why we Iranians, when we are abroad, become so happy when we run into each other in any corner of the world?  Is it not because we no longer feel lonely and homesick at that moment?
Then my dear fellow Iranian, tell me why, because of this discrimination, should my children and I feel like strangers in our own land?  We are all Iranian citizens, who have been nourished from the same blessed source in our "holy nation of Iran", and who drink from the same source called our "Motherland" – but where is the spirit of our community?  Has the humanity of Iranians disappeared?
Dear fellow Iranian, the week that just ended was the week of Sacred Defense, and all media, including newspapers and television broadcasts, commented about the memory of the courageous men and women who with their sacrifices over the course of the eight year war [with Iraq] defended and preserved this land, and saved every inch of this soil for me and you and our future generations after us – was their brave act anything but an expression of their love for their country?
This period has reminded me of those days when as a Baha'i in the 1980s – right after getting my high school diploma during the war [the Iran-Iraq war] – and although I had been barred from attending university due to my religion, I went to serve as a soldier, out of my love for my homeland, filled with hopes of clearing up any misunderstanding.  Besides the first three months in training, I spent 21 months in the combat zone to pay my debt to our country. I wanted to share in the defense of our country as a Baha'i, and demonstrate in practice that although they did not let me into university, still I would not sacrifice this land and would defend this land, its security, and its glory.  Did I or the rest of those who fought together in the combat zone have any other wish but the peace and security and honor of our dear Iran? Absolutely not!
Yet why, after peace and calm came to our country, did my hopes of clearing up the misunderstandings and prejudices not materialize?  Why did they continue to the next generation after me?  Can you imagine how hard it is when you love your country, but your own people push you aside and deprive you of your most basic rights?  It is as if you were living in your own house, but the other household members do not consider you to be one of them and leave you out – would you not feel like a stranger then?
So my fellow Iranians, our children live in a large family by the name of Iran. We are each others' brothers and sisters because we are from the same land and the same country.  In the same way that it is my duty to defend the honor and integrity of this huge family for the sake of the family-bond between us, in the same way I expect that you too, my brothers and my sisters, must take sincere and courageous steps in eliminating all prejudices – be they religious, ethnic, racial, etc – within the higher educational and university systems, for the sake of all the children of this land, and must transform this estrangement into brotherhood and unity.
"Long live the honor and pride of our dear country"
Ramin Zibaei
Raja'i Shahr Prison 7
* A short biographical sketch of Mr. Zibaei and an appeal on his behalf can be found at http://scholarsatrisk.nyu.edu/Events-News/Article-Detail.php?art_uid=3179