Source: en.iranwire.com/features/6184/
Wednesday 10 December 2014 Mahrokh Gholamhosseinpour
When you hear Susan Tebyanian speak, it is not the type of voice you associate with a woman that could be swept off to prison at a second's notice. Everything she says oozes calm and patience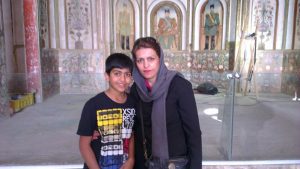 , even when she tells me she had just changed her son's pillowcase because it was wet with tears. "Mummy, every night when I think I won't see you tomorrow, I cry," her 13-year-old son told her.
Tabianian has been arrested, interrogated and imprisoned several times. In 2010, she spent a year at Evin Prison. Tomorrow she will report to the office at Semnan Prison in northern Tehran to begin a one-year prison sentence for "propaganda against the regime in support of groups hostile to the regime." The sentence was handed down by Judge Amiri of Branch 1 of the Semnan Revolutionary Court. The court also ordered the confiscation of all documentation in Tebyanian's possession that relates to the Baha'i faith, a minority religion in Iran that is not officially recognized by the state.
When were you first arrested?
It was during Mr. Khatami's heyday, in 2005. The Baha'i community decided to write a letter about the unjust pressures it had to deal with.
Who was the letter addressed to?
Government officials. I was one of the people who delivered the letter to seven or eight directors across Semnan, including the director of the Justice Department, the director-general of the Insurance Bureau and others. Before handing it to them, I described the injustice the Baha'i had suffered in those years. It was really a petition. But not even two days went by before they stopped me, and a month after that I was summoned.
Was this the first time you were summoned?
Yes, but it's worth mentioning that during Mr. Khatami's time in office, the judiciary system treated the Baha'i community in a more legal manner. Nine members of Semnan's Baha'i community were summoned. We went to court and were jailed for a night. The next day, we were released on very light bail amounts. Six of us were given three months' suspended prison sentences and three Baha'is were sentenced to three months in prison. My sentence remained suspended for four years.
Did you go to prison in 2009 for the same incident?
No, that was another case. The Intelligence Bureau of Semnan arrested me that year, when my daughter was just a year and a half old and deeply reliant on me. I was arrested that time for doing an interview with Masih Alinejad [an Iranian journalist now living in the UK] and Radio Farda, in which I discussed the difficult situation for Baha'is in Semnan.
I was detained and interrogated for several days and then released on bail. But a few months later, the court sentenced me to 18 months in prison.
What were the charges against you?
I was charged with propaganda against the regime and forming an illegal Baha'i group. I was an ethics teacher and for that alone I was sentenced to a year in prison for the formation of an illegal group. I got six months for propaganda against the regime.
Why were you transferred from Semnan to Evin?
On June 30, 2010 I turned myself in to begin my sentence. It was at this point that I was told they didn't have a proper place to keep me so I'd be sent to one of Tehran's biggest prisons.
Four women, including myself, were transferred from Semnan to Evin. Those were difficult days for me, but also rewarding. Getting to know two people at Evin greatly influenced me and my other cellmates. One of them was Haleh Sahabi [a democracy activist who died in 2011], who was influential in changing how many imprisoned women were perceived. Then, a miracle happened: Nasrin Sotoudeh [the human rights lawyer] was brought into our cellblock and we got very close. At the time I was very inexperienced and knew nothing about politics.
Before Sotoudeh arrived, the prisoners all had very different political views but she brought a positive harmony that took root among all of us.
Although I was released after I'd served my sentence, it now appears the story will go on.
Why were you arrested the following time?
On May 31, 2014, I invited two of my non-Baha'i friends over to study language. My daughter was at an arts class and I was home alone with Sami, my 12 year-old son. When they rang I saw my friends' faces on the monitor and opened the door but quickly saw that they were both huddled with fear and confusion at the back of the elevator when a masked man jumped forward to keep the door open. I shut the door immediately. For almost two hours, he was banging on the door. I told him I would only open the door if I saw a warrant because without one, him entering would be illegal.
Did he have a warrant?
Yes, a warrant for search and arrest. But to be frank, what he showed me through the peephole looked nothing like an official warrant. It was a torn-off page that'd been signed by the assistant prosecutor, Hossein Zamani – he was the man examining my case. It was handwritten with words and parentheses crossed out that said the arrest had to be carried out even if it was nighttime. It was very messy.
When did you eventually open the door?
I locked him out for two hours until my husband got home. For an hour and a half they turned my house upside down and then took me to a dirty and miserable cell. Afterwards I was immediately interrogated. It was 9:30 pm. I told them that, according to the constitution, after the call to evening prayers, interrogation was illegal. My interrogator was surprised I knew the details but I didn't give up. I said my charges had never been read to me and until that happened I wouldn't answer him.
What were the charges?
They didn't tell me that day. The next day they moved me from solitary confinement to the examiner. Zamani told me I was there because of my interview with Masih Alinejad and Radio Farda. I rejected the charge. They interrogated me for three days but I resisted all the half-baked evidence they'd collected because I didn't consider any of it legal. Was it a good enough reason to terrify or interrogate me because I'd spoken with Nasrin Sotoudeh, Mr. Nourizad [an Iranian journalist and filmmaker who kissed the feet of a four-year-old Baha'i boy as an apology to how the Baha'is have been treated] or Baha'i families? Or, perhaps, because I was photographed at the commemorative ceremony for Sattar Beheshti [a blogger who died in prison]? Or because I spoke to Radio Zamaneh about the economic pressures facing the Baha'i community in Semnan?
What do you remember from the interrogations?
I remember it as if it were today. The interrogator would become furious, tear up his notes and insult me but I would only respond by describing what was happening. I would say, "the interrogator is now insulting me," or "the interrogator is shouting."
During the interrogations, I was under intense pressure and in just a week I lost seven kilos. They even sent me to the Identity Verification Unit to match my voice with the interview I did with Radio Zamaneh. The prayer books they found in our house were entered as evidence for propaganda against the regime but I answered each and every one of the charges during my interrogation and was under the impression I would be acquitted because there was no evidence I was guilty.
What is your profession?
[Laughs.] I thought you'd ask me that. I was a children's counsellor. In 2005 I worked in a counseling clinic but I was fired because I was a Baha'i. Given my job was cultural, I wasn't allowed to continue. In 2006, I got a permit to open a shop for womenswear but after I was identified as Baha'i for the second time, they took my permit away and told me I was unqualified to have a shop.
How long was it until you were transferred from solitary confinement to a communal ward?
I was never transferred to a communal ward. After a week of interrogations, I was transferred from solitary to a block in Semnan prison that keeps prisoners of conscience. I was the only female Baha'i prisoner so they kept me in an isolated cell on the communal ward. I was kept there for 45 days until I was released on bail. But the Semnan Revolutionary Court sentenced me to a year in prison and the appeals court upheld the verdict.
How are you feeling morale-wise?
I feel all right, I'm only worried about my children. My daughter is seven years old and in first grade. She can't fully grasp the meaning of prison and my aspirations. These days she's worried all the time and will say, 'Mom, how many days are there in a year? If I study and pass my exams, will you come back?'
Do you believe in freedom of conscience? For example, if your son wanted to convert to Judaism or Christianity, what would you do?
I truly believe in it. Freedom to believe is the number one human right and this comes from all our teachings. I believe we have to try and create a world of human unity, regardless of whether we're Muslims, Baha'is, Christians or without a religion. The important thing is to build a proper and kind world.