Source: exilesactivist.wordpress.com
Translation by Iran Press Watch
23 January, 2015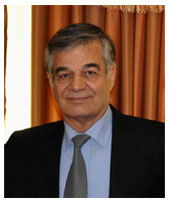 Activists in Exile: Foad Moghaddam*, a physician and one of the managers of the online university of the Baha'is, despite heart problems and other health issues, was forced out of his hospital bed by prison authorities and returned to Rajai Shahr Prison in Karaj prior to receiving treatment.
As reported by Peace Activists in Exile Campaign, officials of Rajai Shahr Prison, despite the transfer of  Dr. Foad Moghaddam, a 63 year old physician, who was among the managing staff of the online Baha'i Institution for Higher Education (BIHE) in Isfahan, and who also served three years in front line war zone hospitals, to a hospital outside of the prison, and blocked any medical treatment for this sick prisoner.
Foad Moghaddam, who was sentenced by the 28th Branch of the Revolutionary Court to five years in prison as a consequence of charges of participating in BIHE, was transferred to Rajai Shahr Prison in Karaj on Monday January 21, 2013.
This Baha'i citizen from Isfahan was quarantined for five days at Evin Prison in Tehran prior to being transferred to Gohardasht Prison in Karaj, but it is not clear if this prisoner of ideology was transferred instead to Rajai Shahr Prison afterwards due to an order, or whether, as with other Baha'i prisoners, the transfer to Rajai Shahr was done illegally.
Informed sources have reported to the Campaign that Dr. Foad Moghaddam suffers from heart disease.  Last week, due to the severity of his health condition, he was transferred to a hospital outside of the prison and was admitted to the ICU, but a few hours after his admittance, due to pressure from the authorities at Rajai Shahr Prison, in particular at the personal insistence of an individual by the name of "Asadi", he was returned to the prison.
This act was even protested even by the soldier who was accompanying the prisoner. It is said that the objection of this soldier to the return of Foad Moghaddam from the hospital caused him to be beaten and his mandatory military service extended.
"The illnesses of the prisoners and the indifference of the prison authorities" in the Islamic Republic of Iran, is considered to be among the top worries of the families of the prisoners, as well as human rights activists.  This widespread method of dealing with the illnesses of the prisoners by the prison authorities is against domestic and international laws, and is usually a tool used by prison-guards to pressure and torture prisoners.
Most human rights activists consider this indifference towards prisoner health issues to be systematic. Sometimes the transfer of sick prisoners to health centers is combined with insults and humiliation; sometimes it is simply left half done, with a return to the prison prior to the completion of the treatment.
_____
* For an abbreviated biography, see https://hra-news.org/en/dr-foad-moghaddam-one-of-the-bahai-university-heads-imprisoned