Source: exilesactivist.wordpress.com
Translation by Iran Press Watch
29 January, 2015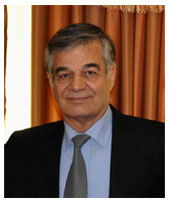 Activists in Exile:  On the morning of Wednesday, 28 January 2015, Dr. Foad Moghaddam, a physician and one of the administrators of the Baha'i online university, who is serving a five year prison sentence at Rajai Shahr (or Gohardasht) Prison in Karaj, was transferred to a hospital outside the prison after experiencing a heart attack.
As reported less than two weeks ago by Peace Campaign Activists in Exile, Foad Moghaddam, a 63 year old physician, and an inmate at Rajai Shahr Prison, who despite heart problems and severe health issues was forced out of his hospital bed by prison officals and returned to Rajai Shahr Prison in Karaj prior to receiving treatment, has now been returned to Tajrish hospital as an emergency, after experiencing a second heart attack.
Last week, the Campaign had reported that in previous weeks, Foad Moghaddam, due to his severe health issues, had been transferred to a hospital ICU, but  a few hours after his admittance, due to pressure from officials at Rajai Shahr Prison, particularly at the personal insistence of one individual by the name of  "Asadi", was returned to the prison in a very offensive manner.  This act was even protested by the soldier who was accompanying the prisoner, which resulted in a reprimand of this soldier by prison officials!
Foad Moghaddam, a Baha'i from Isfahan, was sentenced by the 28th Branch of the Revolutionary Court to five years imprisonment as a consequence of charges of participating in the online Baha'i Institution for Higher Education (BIHE).  He is serving his sentence in internal exile at the Rajai Shahr Prison in Karaj.
Most of the Human Rights Activists consider the indifference towards prisoner health issues to be systematic, and have highlighted that in some cases the transfer of sick prisoners to health centers is combined with insults and humiliation; sometimes it is simply left half done, with a return to the prison prior to the completion of the treatment.
Various reports and news items indicate that blocking the treatment of prisoners in the prison system of the Islamic Republic of Iran is prevalent and routine.
A number of reports from prisons point to a lack of adherence to the physicians' code of ethics by some doctors, as well as offensive confrontations, a lack of attention to the health issues of prisoners, and only prescribing pain medication are among the common practices of some attending military doctors in the prisons. To date, sending patients to hospitals outside of the prison has also been impossible in a majority of cases.
This situation exists even though the Islamic Republic of Iran became a signatory of the United Nations International Covenant on Economic, Social and Cultural Rights (ICESCR) of 1966(1). According to the Resolution of the UN Committee on Economic, Social and Cultural Rights (24) 633, dated 31 July 1957, and (62)2076, dated 13 May 1977(2), signatories are obligated to adhere to the Standard Minimum Rules for the Treatment of Prisoners in which sick prisoners who require specialist care should be transferred to normal specialized institutions or hospitals.
In this regard, on Thursday, 18 December 2014, the Third Committee of the UN General Assembly approved the draft resolution "Situation of human rights in the Islamic Republic of Iran"(3), expressing grave concern regarding "the denial of access to adequate medical treatment and the consequent risk of death faced by prisoners, detainees being subjected to torture, rape and other forms of sexual violence".
The resolution was adopted on Thursday, 18 December 2014, after review, with 83 votes in favor, 35 votes against and 68 abstentions.
1. See http://en.wikipedia.org/wiki/International_Covenant_on_Economic,_Social_and_Cultural_Rights
2. A full text of this Resolution is available at http://www.ohchr.org/EN/ProfessionalInterest/Pages/TreatmentOfPrisoners.aspx
3. The Draft Resolution can be found here (on pp. 26-31) It is document A/69/488/Add.3, Draft Resolution 4, paragraph 5.m, p. 28: http://www.un.org/ga/search/view_doc.asp?symbol=A%2F69%2F488%2FAdd.3&Submit=Search&Lang=E