10 February, 2015
Source: hra-news.org/fa/students/a-15
Translation by Iran Press Watch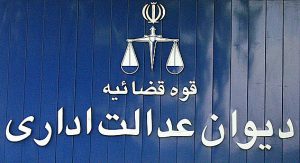 HRANA News – Branch One of the Judiciary Court has denied the request of a group of Baha'i youth to investigate their higher education applications for Iranian public universities.
According to HRANA, and as reported by JRS (Green Path Movement website – www.rahesabz.net), subsequent to the announcement of Iran's nationwide public university entrance examination results a number of Baha'i youth who had gained high rankings in the examination and could easily have been accepted at the best Iranian public universities, were not accepted due to "incomplete applications".    These individuals consequently submitted complaints to the Judiciary Court Offices; finally, after much effort, their requests were registered for investigation at Branch One of the Judiciary Administrative Court.
Based on the reports, this Branch, which is run by the Head of the Judiciary Administrative Court, denied an appeal to these youth, due to the general terms for selection and education, according to a Resolution of the Supreme Council of the Cultural Revolution* published in 1989, which bars Baha'is from higher education in Iranian public universities.
Although the Administrative Court has not produced any written documents in this regard that could be presented to these youth and their lawyers, and also considering that there are no documents pointing to the Baha'i affiliation of these individuals anywhere, nevertheless, Branch One of the Administrative Court has associated their case with the general terms of selection and education mentioned above.
Lawyers and Human Rights Activists consider this undertaking by Iran's Judiciary Branch, and its implementation in the courts, to be against the Third Amendment of the Iranian Constitution as it relates to the elimination of discrimination, and Amendments 19, 20, and 28 of the Constitution; however the Judiciary merely continues to state that they are not barring these individuals from education because they are Baha'is, but because of incomplete applications.   This method frees them from international pressure, and also prevents Baha'is from receiving an education in Iranian public universities.
Ahmed Shaheed, the United Nations Special Rapporteur for Human Rights, has previously warned against the systematic harassment and persecution of members of religious minorities who are not officially recognized in Iran, especially the Baha'i Community, which is a violation of international conventions**.   The claims of the United Nations Special Rapporteur regarding human rights in Iran refers to several government documents dating back to 1991, in which recommendations are made to deny them higher education, to establish an office for opposing Baha'i publications,  and not to accept Baha'is for any influential professional or business positions.  One of the Baha'i students gave news of 800 Baha'is not being admitted to university in the same year that he was not admitted.  In addition, several Baha'is who were recently arrested were affiliated with the Baha'i Institute for Higher Education (BIHE), which is an open university designed to provide an education for Baha'is who have been denied formal education.
* See for example http://iranpresswatch.org/post/10890/, in which it is stated that "In most cases, many high ranking officials of the Ministry of Science and the Institute of Assessment announced that the main reason for the administration of Hassan Rouhani as well as prior government administrations continuing to bar Baha'is from education to be certain 'secret resolutions of the Supreme Council of the Cultural Revolution'".
** See for example http://shaheedoniran.org/english/dr-shaheeds-work/latest-reports/march-2014-report-of-the-special-rapporteur/, in which it is stated "It appears that Baha'is are almost exclusively prosecuted for participation in their community affairs, including by facilitating educational services and publicly engaging in religious practices, such as attending devotional gatherings…. Other sources report that judges are often openly hostile towards Baha'i defendants."