Source: exilesactivist.wordpress.com
Translation by Iran Press Watch  
Activists in Exile: Twenty days after five Baha'is were arrested by officers from the Ministry of Intelligence in Tehran, no information is available on the whereabouts of Rouhieh Bagherdokht (Akbari), Safa Forghani (Jannati), Mona Mehrabi (Alizadeh), Elham Karampisheh and Mehrdad Forghani.
According to Peace Activists In Exile Campaign, Rouhieh Bagherdokht (Akbari), Safa Forghani (Jannati), Mona Mehrabi (Alizadeh), Elham Karampisheh and Mehradad. Forghani were arrest by security forces on Tuesday Feb 16 2015 during simultaneous raids in Tehran and Varamin. In the past three weeks they have had only three brief contacts with their families.
Farzad Jannati Safa Forghani's husband and Mehrdad Forghani's son-in-law announced this news and explained that "over the past three weeks, they have had only three short telephone conversations with their families; other than greetings they were not allowed to talk about anything else."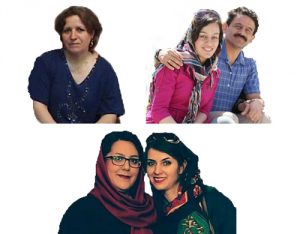 Jannati said: "The detainees succeeded in the last call to disclose their location: solitary confinement at Evin Prison."
Farzad Jannati criticized the existing state of limbo, and explained that "although the place of detention has been disclosed, the prison authorities continue to deny their presence in the prison, claiming that they are detained at the Court of Varamin."
They said that all inquiries of the families of detainees into the condition of the prisoners have been futile so far.
Mona Mehrabi, Safa Forghani, Elham Karampisheh, Rouhieh Bagherdokht were arrested on February 16 in Tehran, and Mehrdad Forghani was arrested on February 17 in Varamin. It is said that they were arrested on charges of teaching the Baha'i Faith, after security forces searched their homes and seized electronic devices such as mobile phones and computers, as well as religious books.
Farzad Jannati further explained: "They were then arrested by intelligence officers, and were transferred to the Court of Varamin, and their families were deprived of the rights to contact them, to meet them in person, to transfer them cash or to introduce to them any surety or provide bail for them. This is despite the fact that there is no accurate information on the exact location of their detention or about their cases. "
This treatment of detained Baha'i citizens is against the ruling of the general assembly of the judicial administrative court that states that keeping a defendant in solidarity confinement is an example of the use of excessive force, and is considered to be against the law  (number 435, dated Jan 18 2004).
Violation of the ruling of the general assembly of the judicial administrative court justifies the concerns of the international community and the UN Human Rights Council regarding the human rights situation in Iran. The council's resolution, which was passed on Dec 18, 2014, with 78 votes in favor, 35 votes against and 69 abstentions, points to these violations:
"Persistent failure to uphold due process of law, and violations of the rights of detainees, including the widespread and systematic use of arbitrary detention and enforced disappearance, the lack of access of detainees to legal representation of their choice, the refusal to consider granting bail to detainees, the poor conditions of prisons, the denial of access to adequate medical treatment and the consequent risk of death faced by prisoners, detainees being subjected to torture, rape and other forms of sexual violence, harsh interrogation techniques and the use of pressure exerted upon their relatives and dependents, including through arrest, to obtain false confessions that are then used at trials and are broadcast on national television…." (1)
1) See http://www.un.org/en/ga/search/view_doc.asp?symbol=A/RES/69/190