Thursday, Mar 12, 2015
By Senator Mark Mirk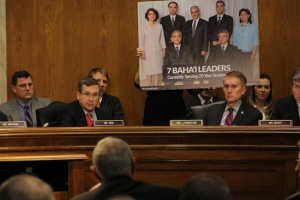 Today marks the seventh anniversary of Baha'i leader Mahvash Sabet's wrongful imprisonment in Iran solely because of her faith. Mahvash, a wife and mother of two, was the first of seven Baha'i leaders – known as the "Yaran-I-Iran" or Friends of Iran – to be arrested by the Iranian regime. The other six leaders were arrested on May 14, 2008, and in August 2010 all seven leaders were sentenced to 20-year prison terms on charges of "spying for Israel, insulting religious sanctities, propaganda against the regime and spreading corruption on earth." They are serving the longest sentences given to any current prisoner of conscience in Iran.
Yesterday, I raised Mahvash's case in a hearing of the Senate Appropriations Subcommittee on State, Foreign Operations, and Related Programs. In the hearing on religious freedom abroad, I urged Ambassador-at-Large for International Religious Freedom David Saperstein to fight for the religious freedom of Baha'is in Iran, and I reaffirmed my commitment to advocating for the unconditional release of Mahvash and the other six imprisoned Baha'i leaders.
You can watch a video of my statement here.