Source: fa.cfppiran.com
By Vahid Tizfahm (1)
Translation by Iran Press Watch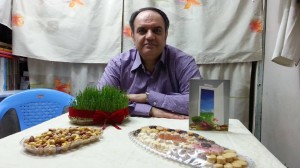 Tribulations, yes! Hatred – never! Perseverance, for sure! Stagnation – never!
I was born in this country. I was but a few years old when I started feeling the first waves of hardship against my family. A short time after the 1979 revolution they raided our home, inspected the house and interrogated my father. In those years I did not have a good understanding of these actions, but the memory of the agents' first raid was forever carved into my mind and soul. Three years later – when I was a little older – I witnessed our home being raided by strangers again, and the inspection of the house and interrogation of my father was repeated. However, this time they took my father with them. I still could not wrap my mind around the real reasons for these incidents, yet they left very unpleasant memories in my head. The depth of this hardship became evident seven months later when my father was executed – he lost his life for his beliefs, and I was forever deprived of hearing his voice and enjoying his warm embraces.
Of course, this was the beginning of other hardships in my life. Even if I were to ignore the discrimination, taunting and sarcasm of some of my teachers and classmates in school, I was still faced with the big problem of not being allowed to embark on a higher education. I should mention that one of the most difficult periods of my life –after my father's martyrdom – was when my mother tried to earn a living for me and my other siblings with much hardship and the use of a weaving machine. What was I to do after we were prohibited from obtaining a university education? I did not have any other support or protectors; I had no other way before me except to begin my higher education at a sustainable, grassroots university which had been founded for deprived youth such as myself through the heartaches of hundreds of caring and sacrificial individuals.
On the other hand, my sense of responsibility toward my family – particularly my sacrificial mother – caused me to start working while in college. It was at this time that I decided to do everything I could to assist youth in my community to grow, develop and prosper, particularly those who – like me – were experiencing deprivation. I made service to these youth one of my priorities – maybe the most important one. However, life's hardships, which arrived continuously like formidable waves, were endless. These included continuing my education and the difficulties related to correspondence courses, earning a living for my family, serving a community in difficulty and in need of everything, and starting a family that blessed me with a son into whose growth and development I put all my efforts.
In those years, I thought to myself that this might be the end of all the hardships, that by the time my son had grown up none of these atrocities, this discrimination and deprivations may exist. However, deep inside I knew that it might be possible to be free from the cruelties of one person, but it is not easy to resolve and be free of institutionalized, structured and systematic discrimination and deprivation.
In another phase, injustice and oppression opened their claws one more time and walked me through the same painful path to the dark and dingy corner of a prison cell. This has been a never-ending story. Now I have had to answer questions related to my many years of service to my fellow Baha'is and to other individuals around me. The flood of questions from my interrogators (my case workers!), has been forced on me like horrific waves for four months. Why did you become a member of Baha'i administrative committees? Why did you accept the responsibility? Why did you travel? Why did you help others? And hundreds of other whys and hows that I am not able to answer, as there is a huge gap between my high and pure goals and intentions and these petty and trivial questions!
What should I have said? Where else in the world do they put individuals under such pressure and attacks for merely administering the religious affairs of other human beings? I have now been in prison for seven years, and have been reviewing my life's incidents over and over again. My aged, sacrificial mother continues to visit me, and my young son greets his father behind the prison bars and asks the same question every time: Father, when will you return to me?
This is a brief history of my life. My worries fifteen years ago were not baseless. This hardship and oppression will not end easily – we have a long road ahead. My life story is the story of hundreds and thousands of other young Baha'is who struggle and deal with deprivation, discrimination and suffering, or else due to all these pressures some accept the hardships of emigration, and are displaced to other countries. Through all these years, there has been one common answer to an oft-repeated question: what is the reason for all this oppression, deprivation and discrimination? Why? The answer is very short and brief: "My belief – our beliefs – are different from the beliefs of those who are intolerant of beliefs other than their own." Yes, I think differently, I act differently and I see differently. My world is a world of kindness and love. My approach is service to others and my mentality desires the elimination of all forms of prejudice. My aspiration is to create unity among all my compatriots from every ethnicity, group and religion. In consequence, my desire is to develop justice and fairness among all parts of my Iranian society.
Indeed, with a deeper look into Iran's history and the fabric of society within the last two hundred years one can easily recognize some of the basic causes of the cultural and social anthropology of Iranians (despite its many strong and valuable points), and with this re-evaluation can identify some side effects and damage whose root causes cannot be discussed here in detail, may in part be briefly mentioned. The institutionalized hatred, the deeply rooted violence, the ignorance of some official and unofficial institutions, the social and cultural intolerance toward minorities and dissidents – particularly toward Baha'is – are among these side effects, and all of these phenomena are historic, structured and generalized. The social realities of Iranian society are strongly influenced by more fundamental factors such as a general lack of awareness, religious prejudices, lack of a proper system of education and the activities of those who – in this atmosphere of ignorance – promote superstitions, lies and illusions, and block the light of truth with the darkness of ignorance and prejudice.
Of course, the strategy of Baha'is in reaction to these ghastly phenomena over nearly two centuries – an approach inspired by their principles – has constantly been and continues to be "constructive perseverance". Love, service, forgiveness, consultation, and active – not passive – forbearance has been and will always be their fundamental approach. Just as I was unable to develop hatred toward those who inflicted many thousand cruelties upon me for all these years, with constant effort and dynamism I turned every crisis to an opportunity and left all difficulties behind one after another, so will all those who suffer these same hardships take the same approach.
Baha'is have always been and still are working to create a new paradigm in social relations that is based on spiritual ethics, on service without expectation, and on constructive discourse focused on love. They are working to replace the destructive force of enmity and hatred with the constructive force of peace and friendship, and they do not hesitate to participate in constructive activities in their surrounding communities.
As we approach the new year – blessed Naw-Ruz – in which I am entering the eighth year of my imprisonment, I dare say that my heart is filled with love toward all my compatriots – those who have been a refuge to me and my family, and who have assisted us through all these hardships, as well as those who unknowingly and unwillingly or even knowingly and willingly have inflicted these cruelties on me and my coreligionists. My heart is free of any animosity and my hands – after many years of confinement and unending pain and suffering – continue to be willing to shake the hands of those who accompany me in the reconstruction of my home land and the revival of our beloved Iran. I am still hopeful and joyous, and every morning and evening I offer this prayer:
O Lord, make thy friends victorious and assist them in servitude. Illumine their hearts and make their faces merciful, so that the foundation of love and unity may be established in the world of humanity, and human beings may become loving and kind towards each other. (2)
Vahid Tizfahm
Rajai-Shahr Prison in Karaj – Ward number 4
Approaching the Vernal Equinox, 2015
____
1. Short biographies of Vahid Tizfahm, as well as the others among the seven Yaran, or "Friends" – the now-imprisoned informal leaders of the Baha'is – can be found here: http://news.bahai.org/human-rights/iran/yaran-special-report/profiles
2. This is a prayer of 'Abdu'l-Baha. The original source for this prayer can be found at http://reference.bahai.org/fa/t/ab/MMA3/mma3-73.html