Source:  Campaign to Defend Civil and Political Prisoners in Iran
Translation by Iran Press Watch
Friday April 10, 2015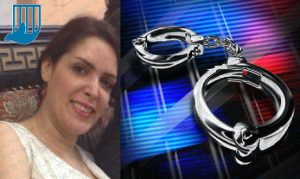 On Tuesday April 7th 2015, security guards raided the homes of two Baha'i citizens in Tehran; after  a thorough search of the place they arrested Afsaneh Yadegar.
According to a report received by Campaign to Defend Civil and Political Prisoners in Iran, the security guards went to the home of Afsaneh Yadegar on the afternoon of April 7th and searched it. Since she wasn't home at that time, they headed to her brother's home, where they arrested her.
Also, the security guards raided the home of Zhinoos Vasli (Sharafi), and confiscated her personal belongings, such as her computer and memory cards, cell phone, tablets and more.
It seems as though the arrest of Afsaneh Yadegar could be related to the arrests of Baha'i citizens on February 17th and 18th of this year in Tehran.
All the detainees on those two days – Elham Karam Pisheh, Mona Mehrabi, Rouhiyeh Bagherpour, Ehsan Yadegar, Safa  Forghani and Mehrdad Forghani – were released after posting bail.