Source: iranrn.net
Translation by Sen's daily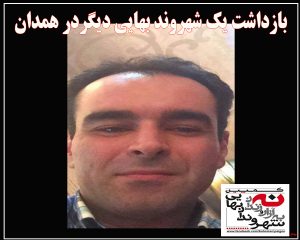 Mehran Khandel, a Bahai living in the city of Hamadan, was arrested in his home on the afternoon of April 26. Agents from the security forces of Hamadan Province first searched his home, where Mr. Khandel was present with his two young children. Witnesses said that the agents had no search warrant, and conducted the search and arrest in an inhumane manner.
Agents from the security forces had visited his home earlier, when they arrested nine other Baha'is in Hamadan, but he was traveling at the time. He had just returned, on April 26, when security forces arrived to arrest him.
In November 2012, 32 businesses linked to Baha'is in Hamadan Province were closed down by the authorities. Because Baha'is in Iran are excluded from employment by the government and from many economic sectors and professions, they rely heavily on small service and retail businesses to earn their livelihoods.
Mr. Khandel's business is one of the Bahai businesses closed down by the authorities, and his father, Hussein Khandel, was charged with being a Bahai and executed by the authorities in 1981.