Source: hra-news.org
Translation by Iran Press Watch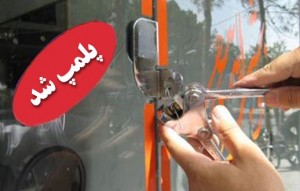 HRANA News Agency. Harassing the businesses of Baha'i citizens still persists in a number of cities in the Province of Kerman.
According to the report by HRANA ‒ Human Rights Activists News Agency ‒ the businesses of 12 Baha'is have been closed by authorities in Rafsanjan, a city in Province of Kerman, since the owners decided to close their shops on normal business days on April 21st and 29th in observance of their religious holidays.
"There are nine holy days in the Baha'i Faith, some of which do not coincide with official holidays in the Iranian calendar; however, according to Baha'i teachings, it is not permissible to work on those days, so Baha'is close their businesses and shops accordingly", one Baha'i citizen told a HRANA reporter in explaining the reasons for these incidents. "However, local Chambers of Commerce claim Baha'is do not have the right to close their businesses on those particular days ‒ Baha'is do not subscribe to that point of view."
These incidences began on October 25th, 2014, which coincided with a Baha'i holy days, on which the Chambers of Commerce in the cities of Kerman, Jeeroft and Rafsanjan closed almost 80 businesses of Baha'i citizens without warning or advance notice.
The Baha'i businessmen did not agree to sign a mandate to open their businesses on their holy days; finally, after 67 days, the Chambers of Commerce accepted the reopening of those businesses on January 1st, under the condition that they receive prior notice of closure on holy days by Baha'i-owned businesses.
Based on report from HRANA, although the Chamber of Commerce of Rafsanjan was notified by Baha'is in March of 2015 regarding the upcoming Baha'i holy days in April, the authorities once more sealed Baha'i shops and businesses, which raised the objection and concern of Baha'is.