Source: hra-news.org
Translation by Iran Press Watch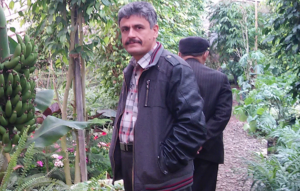 HRANA News Agency: The one-year prison term of Hamid Azizi, a Baha'i from Hamadan ‒ a city in central Iran ‒ was implemented. 
According to HRANA ‒ Human Rights Activists News Agency in Iran ‒ Mr. Hamid Azizi reported to Hamadan prison to serve his one-year prison term on yesterday morning, June 10th.
According to a person close to him, one day before the date of the commencement of his sentence, he and his wife were summoned by telephone to the Hamadan Ministry of Information, where he was warned that if he insisted on teaching the Baha'i Faith, he would either be banished or receive extra prison terms.
On November 2014, Hamid Azizi was arrested and charged with "Collaboration with anti-regime groups"; after 10 days of interrogation, he was temporarily released on $35,000 bail. He was sentenced to one year imprisonment by Branch 1 of the Revolutionary Court in Hamadan. His sentence was confirmed in the court of appeals.