Source: bahaicamp.com
Translation by Iran Press Watch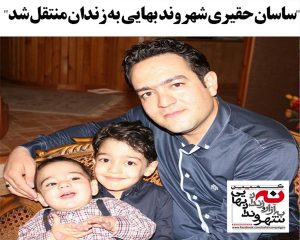 I am Sasan: my surname and my fame and distinction is also Haghiri ["humble" in English].
I am not able to write even a brief account of my life, for when I look at the depth of the cruelties, injustice and malice that my fellow Baha'is have had to endure during the past 170 years, I cannot allow myself to write a narrative about myself and my life ‒ I am but the lowest compared to all that greatness and sacrifice. At the same time I don't want to neglect the pain of injustice to which my countrymen and my fellow Baha'is have been subjected in the past 30 years, or fail to recall the sadness of the hardships they have endured. But I set aside the sadness of the injustice, hardships and difficulties that I have faced ‒ I do so because the mere thought of my presence in such hardships and my partnership in bearing such adversity permeates the depth of my thoughts and my whole being and fills my heart with such joy and gladness ‒ that one day, backed by such a rich history, I will be but a small ray of the shining sun of this wronged Holy Faith, which will shine over the frightened nation of Iran.
At every moment of my life, at every turn in my life I have learned the true meaning of my presence in my beloved country ‒ Iran ‒ the land where my whole being and my whole body have ever and will always belong.
I learned the meaning of my presence at my very first days in school when I was filled with a yearning to learn. The name of my school was "Omid" [hope]. As a seeker of truth, knowledge and science I very soon learned the hardship of having different beliefs and ideas at the expense of wounded and injured hands, as a result of the heavy hands of no less than a person than the teacher himself ‒ a teacher who was devoid of knowledge or human decency. Disturbed and incapable of taking pen I wrote "decency promotes culture".
I understood the meaning of "presence" in child plays, in being and playing with other children. I learned because I did not know what "uncleanness" meant; nevertheless I was known by it, it was as if my forehead was stamped with the word "unclean"[najis]*.
Then the refusal to accept a young enthusiastic seeker of knowledge into middle school for months after the start of the school year gave me an ability to better realize and appreciate the noble and holy values in life. However this realization came at a high price ‒ the pain of being away from school, the most basic human right, which is the right to education.
The deprivation and hardship resulting from the war [Iran-Iraq War 1980-1988], knew no bounds, and affected equally Muslims and Christians, Jews, Zoroastrians and Baha'is. There was no "otherness" or "us or them" back then. We were all saddened by the suffering with which our country was inflicted. I never forget how my mom with such concern and love would embrace me and my brother during the bombings or when the air attack sirens went off.
Then it was time for going to university, but now there was "otherness" and "us and them"! However, now "being present"in Iran took on a whole new and different meaning. This time, of our own choice we decided to endure the agony of deprivation of higher education so as to be present in our oppressed community which has even nobler goals than acquiring knowledge.
Now after living in this mortal world for more than thirty years I understand why my mother patiently endured the pain of being expelled from university, although she was among the best, why my father accepted that he was deprived of official employment, although he has never had any intention other than to serve his country and his countrymen, and that why all those Baha'i mothers and fathers who resigned themselves with humility in the face of losing their sons and daughters conceded slander and tolerated hatred and defamation from neighbours and friends. They did so, they persisted and persevered so as to be "present" among their countrymen, who now realise the true meaning of their "presence". Their countrymen now know the real reason for their "presence". And now they offer their hands in friendship, support and love which transcends any belief or ideology, so that no other powerful cruel hand can ever make this bond weak.
I conceded and accepted the hardship of having the security forces break into my house, be in my house, break the valuables in my house; I endured their interrogation, their insults against my values and religious beliefs; I agreed to be away from my wife, my tender son and all my loved ones for a month ‒ even now that God has gifted me with another child ‒ but I still have no fear of serving my community, which is not large but is vast with a rich and valuable history, and which has been the subject of cruel and unjust treatment by officials. Considering the deprivation of very basic needs and necessities of this community, no one, not even officials, can deny the contributions this community has offered. However, so far the only response has been imprisonment, punishment and deprivation of all kinds. This community, in which every and each member considers the service of their country and their countrymen to be their primary duty, but in which they are deprived of their very basic human rights.
So I stretch my hand as a sign of friendship and love to all the officials, and to my dear countrymen, and with a heart filled with love I prompt them to set aside whatever is the cause of discord among us.
*Najis  means "ritually unclean" in Islam. See https://en.wikipedia.org/wiki/Najis