Source: BahaiNews1
Translation by Iran Press Watch
July 19 2015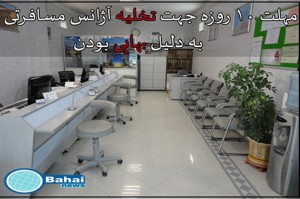 According to reports provided to "BahaiNews", pressure on Baha'i residents of Tehran and Karaj has recently intensified.
According to a reliable source, security agents of Tehran Province have forbidden a Baha'i resident's travel agency from continuing to operate.
This reliable source added that the agents have allowed only ten days to vacate the premises, and have stated "being a Baha'i" as the reason for this action. He also added that not much is left until the designated date, and the pressure has intensified.
The agents, as well as government detainment officers, came to the workplace of this Baha'i resident, and stated that the reason for being required to vacate the premises is that he is a Baha'i.
It is also reported that several Baha'i residents of Alborz (Karaj) Province are also facing problems due to their beliefs.
Taking custody and sealing the workplace of Baha'i residents in Iran has continuously been practiced over the years since the Islamic Revolution, and Baha'i residents of various provinces have had to deal with this problem.
_____
1. "BahaiNews" is an independent non-Bahá'í initiative and is not affiliated with any Baha'i institutions.