Source: hra-news.org
Date: August 14, 2015
Translation by Iran Press Watch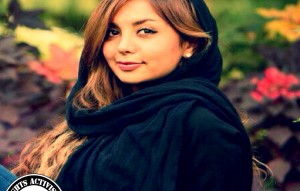 HRANA New Agency – Dorsa Gholizadeh, an architecture student at Roozbehan University in Sari, was summoned to the news organ of the Ministry of Information and subsequently expelled during final exams in the spring semester. She has written a letter to describe the events leading to this violation of her right to education.
You may read the contents of Dorsa Gholizadeh's letter, which was obtained by HRANA, below:
From the News Office to the University
"You knew that Baha'i students get expelled! You knew there was a possibility of your own expulsion! However, you insisted on continuing your education. That must mean that you had no aim other than to teach Baha'ism." These were the words of the Ministry of Information interrogator to me at the News Office.
With this kind of logic (I thought to myself), if someday I decide to open a store, I will not be able to, because they can tell me: "you knew that more than 25 Baha'i owned stores in Sari have been closed and sealed, and you knew there was a possibility that your store would be closed and sealed because you are a Baha'i. Yet you insisted on opening a business – that must mean you had no other goal than to teach Baha'ism in your store."
With this kind of mentality, I will be accused of teaching my Faith and denied of any activity regardless of what I decide to do. Now I understand why the interrogator told me: "You name yourself a citizen? You should thank God that we give you the right to be alive!"
It was June 9, 2015. I was in the heat of final exams. I had just returned from the "Building Materials" exam when I received a call from the Ministry of Information and was summoned to the News Office to answer some questions. I had exams scheduled for the next day in "Islamic Vision" and "Physics". I was not sure whether I should focus on "Physics", "Islamic Vision" or being a Baha'i, but the questions that were asked of me were related to the latter. I thought that the next day might be the last time I would take exams at the university, and tried to focus on my upcoming exams. The following day, my home phone rang just as I was leaving for school. The caller ID showed number 1, and that meant the call was from the Ministry of Information. My mother answered the phone. They said: "Why didn't you bring your daughter today? Do you want her to be expelled from school?"
The following day I went to the News Office with my mother, confident that I was going to be expelled. Two people entered the room and started an interrogation that lasted about three and half hours.
As I mentioned, I was being questioned about teaching my beliefs at the university, something I had never done on campus –  nor was any reasonable proof provided to me in relation to that charge. I asked: "Whom have I taught? And when, where and how have I done that?" Their answer to all these questions was: "You have no right to ask us questions – you are here only to answer our questions." I realized then that not only did I not have the right to be educated, but I also had no right to ask questions, nor to understand my charges, nor or to defend myself. Of course, I realized then that at least I have one right – that is the right to answer the interrogator's questions!
When they became aware of my love for education, they offered three suggestions to me. In those moments, I had no hope that their suggestions could provide any solution for me to continue my education. However, I developed a wish in my mind, a wish that no human being be deprived of education merely for her beliefs. Their suggestions were as follows:
I could keep my beliefs and be deprived of my education.
I could leave Iran.
The last suggestion was to recant my belief.
The interrogator made this last proposal as follows: "See, Ms. Gholizadeh, inasmuch as you are so interested in getting educated, we could take you to the Imam. You would say the verse: "I bear witness that there is no God but Allah; I bear witness that Mohammad is the messenger of God". Your name will then be published in the newspapers, and then you can live any way you wish and continue your education. That's it, and nothing else will happen to you."
I replied: "You see, a person's belief is in her head, her mind, her heart. You can't take away her belief from her."
He said: "Then keep your belief and you will be deprived of education."
The only reply I had to this was: "I will never regret not continuing my education if it is for my belief."
As I was going to school for my last two exams, I was preoccupied with what was about to happen; my preoccupation could easily be seen in my face. What could I tell my school friends when they asked me what I was thinking about? Did I have to hide everything that had happened from my friends? I had not done anything wrong; those who had called me considered their actions legal. I didn't want any misunderstandings or ambiguity created for my friends once I was expelled and could no longer see them. What could I tell them other than that I was contacted by the Ministry of Information and might be expelled?
I keep remembering the following sentiments repeated to me on my last day by those with whom I had become friends over the previous few months: "In life, it is important to be a good human being. I am sorry that those who have the same beliefs as I do have prevented you from going to school."
Despite my bittersweet feelings, my expulsion taught me a big lesson. I realized that a large group of my friends and classmates loved me despite my different beliefs, just as I loved them as they were. Even though there are a limited number of people who don't acknowledge our shared humanity, who try to consider me and my belief system to be unofficial, who don't consider me to be a citizen of this country and believe that I should thank them because they allow me merely to be alive, I know I have to thank the God who has given me life and has given me the chance to enjoy freedom from prejudice, and to spend my life to help in the development of my country.
And the image I remember from their faces is like the children in my childhood cartoons whose tears were like …..
On the last day, I went to school to take care of my final affairs and to settle my account. They told me to fill out a form, which I did because I was very disturbed. However, I realized later that the form indicated that I had decided to drop out of school, though I never intended to quit. The officials suggested that filling out this form might help me to get back some of the tuition I had paid. However, what I was losing by signing that form – meaning my right to education – was much more valuable to me than money.
I said: "But I don't want to fill out this form". He said: "Miss, you have to fill it out."
Initially, I was in pure shock. My mom picked up the phone, I was stressed and paced back and forth at home.
My knees had become week. I kept thinking, Why is our society formed in such a way that human beings are deprived of scientific progress because of their beliefs?  I sat on the floor spontaneously and cried.
Did you know that legally you have no right to be educated?
He repeated this question a few times (I have never seen a law that stipulates Baha'is have no right to education). I have never heard anything specific about Baha'is not having the right to be educated, and I knew that legally all Iranian citizens have the right to higher education. However, each time I tried to bring this up, they asked me the same question more emphatically.