Source: BahaiNews1
Translation by Sen's daily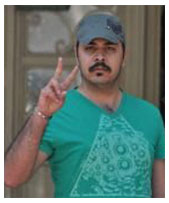 Vahed Kholousi, a Bahai student who has been excluded from tertiary education, was arrested in front of his home in Tehran a few days ago. According to current reports, he has been transferred to Raja'i shahr prison and is being held in the quarantine wing. He is expected to be moved to the wing housing prisoners of conscience on Wednesday. He was arrested in March 2010, along with four other Bahais: Navid Khanjani, Sama Nourani, Iqan Shahidi and Dorsa Sobhani, and later released on bail. It appears he was arrested to begin serving a five-year sentence in connection with this arrest. The charges leveled against persons accused of political and religious crimes in Iran are so vague, that it is difficult to distinguish one case from another.
Mr. Kholousi was also one of the 35 social activists, including five Bahais, who were arrested while bringing aid to the victims of the the 2011 Azerbaijan earthquake. The activists were detained in Tabriz for almost two months and were charged with assembly and collusion to commit crimes against national security, endangering public health and insulting Iran's Supreme Leader. All were acquitted in September 2013.
_____
1. "BahaiNews" is an independent non-Bahá'í initiative and is not affiliated with any Baha'i institutions.