Source: bahaicamp.com
Translation by Iran Press Watch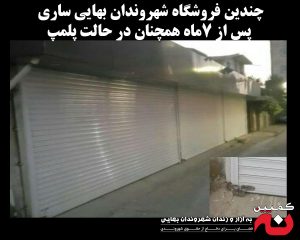 According to the "No to the harassment and imprisonment of Baha'i citizens" campaign's report: Several Baha'i citizen's shops in Sari were sealed in May- June of this year because the owners closed their shops during non-official holidays according to the government calendar; these shops remain closed.
According to a source close to these Baha'i citizens, after seven months, the shops of these Baha'is are still sealed. One of them is a wholesale stationery shop which belongs to Sam Tahrir and Sohrab Zahedi; it has been sealed for nearly 200 days.
According to the same reliable source, officers of the General Directorate for Supervising Public Premises, after entering the shop, announced that they were there to close and seal the shop. This is because the owners were not allowed to have a wholesale business; they could have only enough business to survive, but no more.
Although the shop had a legal permit for wholesale business from the relevant union, the officers took samples of all brands of their stock and took them away, saying that they suspect those goods are being smuggled, even though the same brands are sold in all Tehran's market and in all other stationery shops legally.
The same reliable source asserted that they also took all stationery which is of Iranian brands and therefore cannot be considered smuggled products. They refused to return them. After inquiries from Iranian Custom Office all brands but one were cleared as not smuggled products; still the authorities are refusing to return goods with a total value of $350,000. No government office responds to their problem getting their goods back, nor will they tell them why the shop is still sealed.