Source: hra-news.org
Translation by Iran Press Watch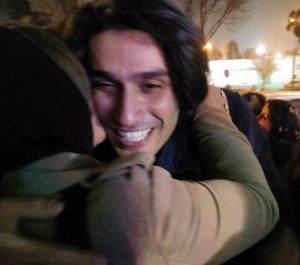 HRANA News Agency: The Baha'i Foad Khanjani has been released from Rajai Shahr prison, as he had served his entire sentence.
According to the report of Human Rights Activists News Agency in Iran (HRANA), Foad Khanjani was released from Rajai Shahr prison at the end of his four-year sentence, on 14th December, 2015.
Foad Khanjani was arrested on 27th April, 2010, and was released on bail after a few days. Later, he was sentenced to 4 years in prison by Judge Moghiseh of the 28th branch of the Revolutionary Court. The same sentence was again confirmed by the 54th Branch of the appeals court, by Judge Movahed.
Mr. Khanjani began his sentence in Evin Prison on January 17, 20121, but on August 5 of the same year, without any official exile warrant, he was exiled to Rajai Shahr prison in Karaj.
Mr. Khanajani had been previously denied higher education, and was even expelled from his work at the Industrial Management Institute of Isfehan, because of his Baha'i religious beliefs.
Foad Khanjani's father, Aladdin Khanjani, was also arrested following the election protests. Mr. Khanjani's grandfather Jamaloddin Khanjani is one of the seven Yaran ("Friends" of Iran – Bahai national facilitators), who is now serving a prison sentence in Rajai Shahr prison in Karaj. Mr. Khanjani's sister, Leva Khanjani, was also previously prosecuted, and imprisoned in Evin prison.
1. See http://www.iranpressnews.com/english/source/116252.html