Translation by Iran Press Watch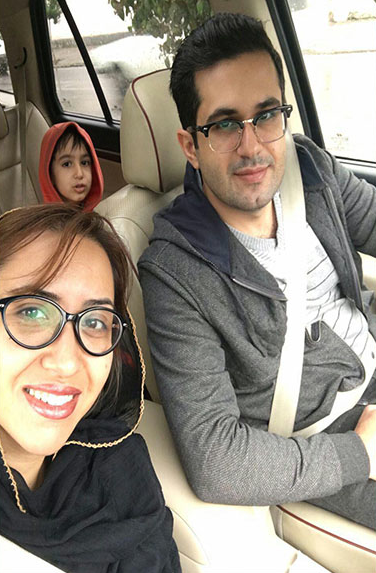 According to a report from the "NO to the Harassment and Imprisonment of Baha'is in Iran" campaign: 24 Baha'i citizens have been sentenced to 193 years' imprisonment by a Gorgan court. These verdicts are among the heaviest sentences issued against Baha'i citizens in the past few years.
Baher Hedayati is the husband of Mona Amri Hesari. Mona is one of the Baha'i citizens who has received a sentence of nine years incarceration by the court which convicted these Baha'i citizens. Baher has written a note about this event.
The Gorgan and Gonbad mass arrests leading to the arrest of thirty-one and the immediate imprisonment of seven of the loved ones, since the illegal entry to our house in the fall of 2012, from Mona's sudden arrest on the eve of Nowruz (a Persian holiday falling on 21 March) in  2013, three years have passed, very rapidly, as though it were but a moment ago. The so-called"trials" of our twenty-four friends who were freed 
only after being forced to pay
 very heavy bail lasted a
n entire
 year
 —
 by courts which ar
e supposed 
to apply
justice!
Finally, … Today, the barbaric Court's ruling reached us — in disbelief, we witnessed unjust verdicts, and perhaps hasty ones for dear Mona and our other friends
 —
judgements that could not convey any justice, to our skeptical minds.
Eleven years of imprisonment for Shahnam Jazbany and Sheeda Quddosi, nine years of prison for Pune Sanaee, Farah Tebyanian, Parisa Shahidi, Behnam Hosni, Mona Amri Hesari, Mojdeh Zohouri, Hana Aghighian, Beeta Hedayati, Vesagh Sanaee, Hana Kushkbaghy, Tina Mouhebati, Parivash Shojaee and Shohreh Samimi and six years of incarceration for Rufya Pakzadan, Shiva Rohani, Mitra Nouri, Soudabeh Mehdinejad, the Nazi Khalkhy, Houshmand Dehghan, Maryam Dehghan, Camellia Beedeley and Navid Moallemi.
In every inch of the handwritten notes of its defendants, one can breathe nothing but the aroma of love. In between their sometimes tired and sometimes anxious lines nothing can be discovered other than motherly teachings to a child or a teenager. This is perhaps the only case in which the accused are the most wronged and the most 
be
lov
ed people in their city. Perhaps no similar case can be found anywhere on the planet in which defendants must pay such heavy compensation for having made potato salad with a few energetic teenagers, or for havi
ng
created handicrafts with a few creative kids, or
 for having
sung songs of love and friendship with several young children. This ruling, without exception, has overawed every listener,and unconsciously driven them to ask: "What have they done? A sentence of 193 years for a few wives and homemakers? For a few simple girls? For faces this calm and kind? Are these people really so dangerous to our society? Maybe they would have received lighter sentences if, instead of speaking of friendship, love and peace, they had planned to kill or destroy our citizens.  Is this the bitter truth — 193 years for altruism?
May your days be happy and free.