Source: BahaiNews1
Translation by Iran Press Watch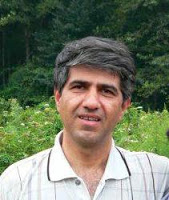 According to "BahaiNews", Shahram Eshraghi, one of the Baha'i prisoners in the city of Isfahan, who is suffering from severe respiratory illnesses, has not been allowed to receive medical care.
According to reports from "BahaiNews", this Baha'i citizen, who was sentenced to over three years of imprisonment, became ill due to terrible conditions in the prison; however, upon being transferred to Ward 3 of Isfahan Prison, which is among the worst sections of this prison, his conditions declined greatly.
An informed source told "BahaiNews" that Shahram Eshraghi's lungs were infected, and he suffered from constant fever when he was transferred to Ward 3 of this prison.  Security officials refuse to even issue him leave time for the Iranian New Year, due to their claim that he was arrested for security charges, and those who have committed security crimes are not eligible for leave.
The source goes on to say that Ward 3 of this prison is designated for those inmates with drug charges, many of whom are chain smokers and use drugs inside the prison ‒ this has caused Shahram Eshraghi severe pulmonary complications in prison.
These Baha'is were detained in mass arrests of Baha'i citizens because of their belief in the Baha'i Faith. They have been imprisoned, and have been denied leave, although leave is normal for other prisoners.
20 Baha'i citizens who had previously been detained have each been sentenced to from one to four years of imprisonment. The sentences were issued by Branch 1 of the Revolutionary Court of Yazd; on 16 April, 2014, they were re-confirmed by the Appeals Branch of the Province of Yazd.
The names of these 20 Baha'i citizens of Iran and their prison terms are as follows:
Saba Golshan (Isfahan): 4 years in prison and one year of probation; Shahram Eshraghi; Engineer Khosrow Dehghani (Isfahan); Shahram Fallah (Kerman); Navid Haghighi (Yasouj); Iman Rashidi (Yazd): 3 years in prison and one year of probation; Fariborz Baghi; Nateghehl Naimi; Shabnam Motahed; Fariba Ashtari (Yazd); Naghmeh Farabi (Isfahan): 2 years in prison and one year of probation; Farah Baghi; Mehran Eslami; Azam Motahari; Farahnaz Misaghian (Yazd); Sohrab Naghipour; Azar Tolouei (Pourkhorsand); Sasan Haghiri; Tahereh Rohani; Vida Haghighi (Isfahan): 1 year in prison and one year of probation.
_____
1. "BahaiNews" is an independent non-Bahá'í initiative and is not affiliated with any Baha'i institutions.