Source: en.iranwire.com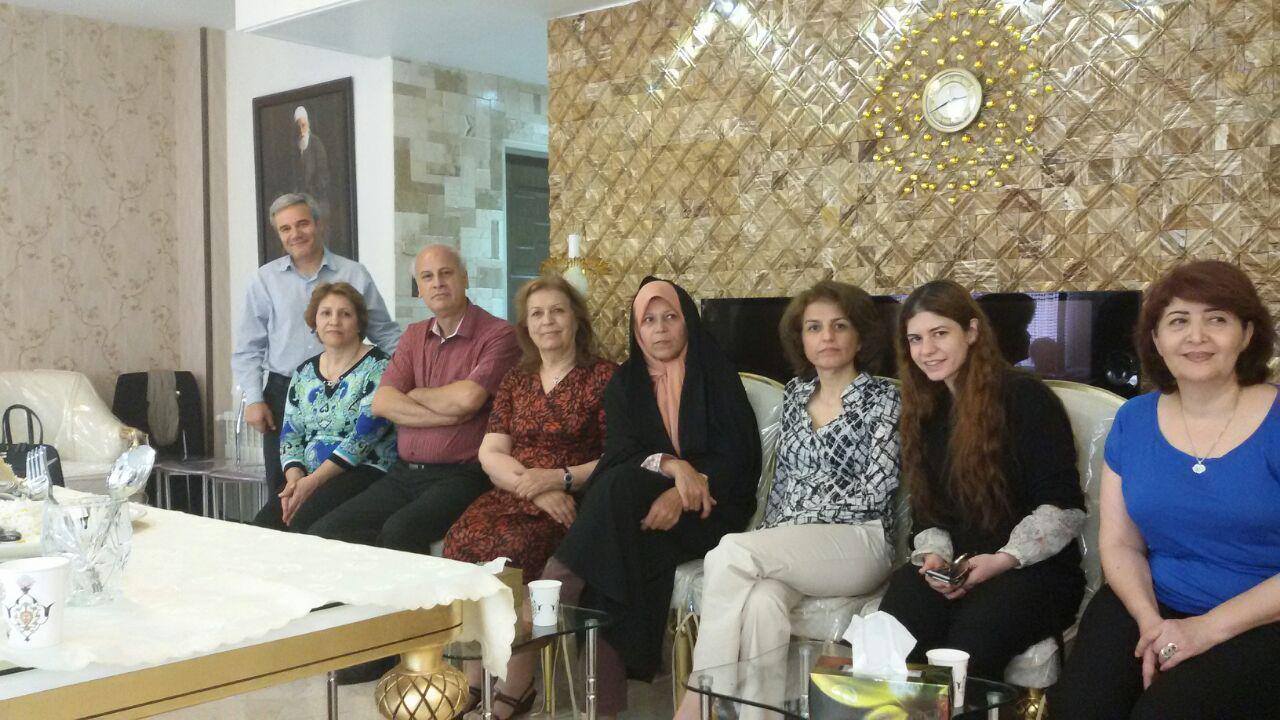 Faezeh Hashemi Rafsanjani (in chador) meets with Fariba Kamalabadi
The photograph has popped up everywhere across social networks. It shows Faezeh Hashemi, the daughter of former President Hashemi Rafsanjani, in her usual outfit of a black chador and a colorful headscarf sitting next to Fariba Kamalabadi and her family.  Human rights lawyer Nasrin Sotoudeh is there too. A portrait of Abdul Baha, the leader of the Baha'i faith in the early 20th century, can be seen in the background. "This was my duty as a human being," Faezeh Hashemi told IranWire. "I had to visit Fariba."
Fariba is a member of Yaran — the Friends of Iran group — which oversaw the activities of the Baha'i community after the Islamic Republic shut down the Iranian National Baha'i Spiritual Assembly. But eight years ago, all members of the group were arrested. Each of them received long prison sentences of up to 20 years. Last year, an appeals court reduced their sentences to 10 years.
Many who have spent time in Evin Prison know about Fariba Kamalabadi and her heart-rending story. At the time of her arrest, her daughter was 13 years old. When her daughter received her high-school diploma, Kamalabadi was in prison. And she was still in prison when her daughter married and gave birth to her own child.
This week, on May 10, prison authorities granted Kamalabadi temporary freedom, her first furlough for eight years. She was told she would have five days to reunite with her children, kiss her grandchildren, browse through their photographs, and hear their stories from the years she missed.
Over the last few years, as the arrest and jailing of civil rights activists, lawyers and journalists has increased, the situation for the Baha'is of Iran has become more public. People are familiar with what they have gone through, and support for them has grown, and become more vocal. Since Kamalabadi's release, many people have paid her visits, including non-Baha'is who have become friends with her or have heard her story. Dozens of photographs of her next to Faezeh Hashemi, the human right lawyer Nasrin Sotoudeh, her husband, the graphic artist Reza Khandan, and journalists Zhila Bani Yaghoub, Bahman Ahmadi Amouee, and Mahsa Amrabadi have appeared online, and a video has been widely shared. In it, the journalist Sajedeh Arabsorkhi talks about her memories of the wedding day of Fariba Kamalabadi's daughter. At the time, Arabsorkhi was in prison with Kamalabadi. "It is so difficult to talk about those memories without crying," she said.
The video also shows visitors hugging Kamalabadi, and saying, "In prison, she was our support. We hope that someday she will be our support outside prison too."
But it is probably the photograph of Kamalabadi with Faezeh Hashemi that has attracted the most attention. She too remembers Kamalabadi in prison. For six months, they were cellmates at Evin Prison.
"This Behavior is not Islamic"
IranWire asked Faezeh Hashemi if her view about the Baha'i community changed after she spent time in prison. "In prison I was cellmate with a number of people, and I came to know them from close-up," she said. "My relations with Fariba and others were friendly. I see this as a human rights issue. I believe that Baha'is should be allowed to enjoy all human rights, just like other citizens. They have no rights. It does not matter that I am a Muslim and they are Baha'is, or which religion is good and which one is bad. This is not the question. The question is human rights. and unfortunately certain sections of our society are denied basic rights. This is not acceptable — and Islam does not accept this discrimination either. There are many statements in Islam and Koranic verses that refer to this. We have the advice of Imam Ali gave to his companion, which says you have to observe the right of those who do not share your faith. So what we see here is not Islamic behavior. This is what we are witnessing in the Islamic Republic."
Hashemi was not the only individual who changed her views after serving a prison sentence. Filmmaker and former conservative journalist Mohammad Nourizad also became aware of the treatment of the Baha'i community while he was in prison. After getting out of prison, he tried to tell their story. When Faran Hesami and her husband Kamran Rahimian were imprisoned for teaching at the underground university the Baha'i Institute for Higher Education (), he went to their home, kissed the foot of their five-year-old child and asked for forgiveness. He visited young Baha'is who were denied a college education, kneeled before them and apologized to them. He started a personal initiative called Peace and Friendship and visited Baha'i families. He posted the stories he heard and photographs on his blog. In 2012, he made a short film entitled We Have Murdered People in which he mentioned the plight of the Baha'is in Iran.
Like him, Faezeh Hashemi is taking steps to end the discrimination against the Baha'is. "Whenever I am somewhere with government officials and others I try to bring up this subject. I have done it many times," she said.
But how do people react when they hear these sentiments from the daughter of former President Hashemi Rafsanjani, who is currently  chairman of the Expediency Council? "When they speak and give their personal opinion, they agree that this is an injustice. But they can't do anything about it," Faezeh Hashemi said. "It seems that a more powerful authority wants these policies. Mr. Rouhani himself faces obstacles, and Mr. Hashemi Rafsanjani is also under enormous pressures."
"Of course the question of human rights does not apply to the Baha'is only," she said. "There are large segments of society that face the same problems. Unfortunately there is an attitude of 'us' versus 'them' in the Islamic Republic, which has led to these kinds of problems — the violation of human rights is a serious problem among them. Besides the Baha'is, many other people live under difficult conditions. besides the Baha'is but the situation of the Baha'is is more difficult than the others."
Human rights lawyer Nasrin Sotoudeh was also a cellmate of Fariba at Evin for two and a half years. She finds it encouraging that in recent years public opinion has become more attuned to the issue of human rights. "I think we will be able to go beyond the perception of 'us' versus 'them' and leave it behind," she said.
Public opinion is learning
But Sotoudeh points out that violations of the human rights of the Baha'is continue. Their businesses are closed, they are banned from attending higher education, they face arrests and long prison sentences. "The Baha'i community is still under pressure. But now the media, technology and social networks are ending the indifference of public opinion towards these sufferings. I hope this a prelude for the public to use its power and force the government to respect the rights of all Iranian citizens including the Baha'is."
Would she have visited Fariba Kamalabadi as a human rights activist even if she had not been a cellmate of hers? "Yes, I would have," said Sotoudeh without hesitation. "But I cannot deny that in those two and a half years when we shared the same painful experience we forged special bonds between us. But in any case, the pain she suffered was because of her beliefs and her faith. I would have definitely visited her anyway."
May 14 is the anniversary of the arrest of Kamalabadi and her colleagues. Sotoudeh hopes it will be much more this year, and that all seven of the Friends of Iran group are freed. That will be an occasion to celebrate, she said.