Source: www.iranhumanrights.org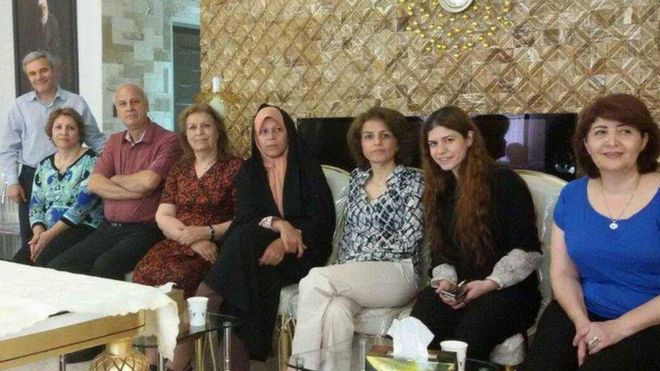 Faezeh Hashemi, Daughter of Akbar Hashemi Rafsanjani, Criticized for Meeting with Baha'i Leader
A high-ranking member of the Iranian Judiciary has said that action will be taken against Faezeh Hashemi, the outspoken daughter of prominent former Iranian President Akbar Hashemi Rafsanjani, following her meeting with Baha'i leader Fariba Kamalabadi and other well-known civil rights activists in Tehran last week.
Faezeh Hashemi previously shared a prison cell with Kamalabadi.
"This was a very ugly and obscene act," said the Judiciary's ultra-conservative spokesman, Gholamhossein Mohseni Ejei, at a press conference on May 18, 2016. "So far as I have gathered, many people, grand ayatollahs, religious scholars, and even her own father have condemned this act."
"Uglier than this act is that after all these condemnations and the fact that her father told her to remedy her act, she did not apologize, and this is truly regrettable," he said. "The Judiciary pursues any crimes that have taken place accordingly, and as with all cases this case will be dealt with as required, according to law, and the way the law has stipulated."
Ejei's statement comes on the heels of calls from other hardliners for Faezeh Hashemi to be arrestedfor meeting with Fariba Kamalabadi, an imprisoned leader of the Baha'i community who was home on a five-day furlough, on May 13, 2016.
Simin Fahandej, the faith's spokesperson at the United Nations in Geneva, told the International Campaign for Human Rights in Iran that these calls are aimed at further isolating the Baha'i community, which is one of the most severely persecuted religious minorities in Iran.
"Faezeh Hashemi's action is a humanitarian gesture to show respect for the beliefs of others, which shows her social maturity," said Fahandej.
"For 37 years the Islamic Republic has tried to create divisions among various groups of people, but the opposite has happened," she said. "Today we see a significant change not only in the views of human rights activists [towards Baha'is] but also the general public's views."
Fahandej added that the Islamic Republic "should realize that demanding freedom and human rights for others is not the same as following their beliefs. There's a big difference."
Bad Timing for Hashemi Rafsanjani
Faezeh Hashemi's meeting occurred at a particularly sensitive time for her father, whose recent election to the Assembly of Experts—which will choose Iran's next supreme leader—has been seen as a political comeback for the previously sidelined cleric.
Hashemi Rafsanjani had previously avoided publicly criticizing his daughter—whose activism for civil rights issues, especially women's rights, is situated to the left of Iran's reformists on the political spectrum—but he was quick to denounce his daughter's latest move.
"Faezeh has made a bad mistake and she must correct and redeem herself," Hashemi Rafsanjanitold a group of journalists from the hardline Jomhouri Eslami newspaper on May 15, 2016.
He also described Baha'is as a "deviant sect created by colonialists," adding, "We always have and always will renounce this sect."
Hashemi Rafsanjani, a leading founder of the Islamic Republic of Iran, began to fall out of favor with hardliners in 2009 when he criticized Supreme Leader Ali Khamenei for the government's violent reaction to the mass peaceful protests that followed the widely disputed election of President Mahmoud Ahmadinejad. Hashemi Rafsanjani, a former president who lost his presidential bid to Ahmadinejad in 2005, subsequently came under various attacks designed to politically marginalize him.
His support was a crucial element of President Hassan Rouhani's election to office in 2013. Substantial wins by backers of the Rouhani government in Iran's recent 2016 elections, including by Rafsanjani, have consequently put hardliners on the defensive.
Fariba Kamalabadi and six other leaders of the Baha'i community in Iran were arrested in 2008 and sentenced to 20 years in prison each in 2010 for "espionage," "propaganda against the state," and "organizing and expanding an illegal group." She was on her first furlough after eight years in prison when Faezeh Hashemi visited Kamalabadi at her home. Kamalabadi has since been returned to Evin Prison.
Iranian officials have repeatedly denied prosecuting Baha'is for their religious beliefs, but have routinely accused members of the religious minority of crimes against national security, including espionage, on thin or non-existent evidence. More than 80 Baha'is are currently held in Iranian prisons, according to Fahandej.
Discrimination Campaign
Iran's supreme leader, Ali Khamenei, has declared Baha'is "unclean" and forbidden Muslims from having any contact with them. But the faith's spokesperson at the UN said Baha'is remain determined to gain full citizenship rights.
"One of the methods used by the Islamic Republic to divide Baha'is and other Iranians is the use of false accusations and baseless information in the mass media," Fahandej told the Campaign.
"Whenever someone stands to defend the Baha'i community, state media launches an attack and condemns the action as anti-state or anti-Islamic," she said. "But it is important to point out that all the barriers the Islamic Republic has tried to create between Baha'is and other Iranians have often been broken within the Islamic Republic's own prisons."
"In prison, terms such as 'us' and 'them' and 'unclean' and 'pure' lose their meaning," she added. "Baha'is and other imprisoned citizens share the same injustice. That's how a friendship developed in prison between Ms. Hashemi and Ms. Kamalabadi."
Faezeh Hashemi spent six months in Evin Prison between September 2012 and March 2013 for the charge of "propaganda against the state."

Flurry of Criticism 

On May 16, 2016 Ayatollah Naser Makarem Shirazi condemned Faezeh Hashemi and called on the Judiciary to take action. He described her meeting with Fariba Kamalabadi as "a crime aimed at strengthening the enemies of Islam" and advocated her prosecution.
"I waited to see if there were any protests [against Hashemi] but I didn't hear anything until her father, thankfully, made a mild protest," said Makarem Shirazi. "But the question we should ask is, why have others remained silent?"
The Judiciary's top official, Sadegh Amoli Larijani, reacted to Faezeh Hashemi's meeting by describing Baha'is as "a false group created by foreigners and colonialists" whose leaders "receive orders" from foreign intelligence agencies, on May 16, 2016.
Without mentioning Faezeh Hashemi by name, Amoli Larijani said any support for Baha'is amounted to breaking societal norms.
"Relatives of officials of the Islamic Republic who carry out such actions should be ashamed because they are supporting an anti-religious group," said the chief of the Judiciary, adding, "If they break taboos to the point of committing a crime, we at the Judiciary will take firm action."
Mohammad Reza Naghdi, the commander of the Basij militia force, meanwhile said the government must not take the meeting between a high-profile Muslim and a Baha'i lightly.
"We must firmly confront these kinds of threats and deviations," said Naghdi on May 16, 2016. "Anyone who befriends Baha'is is himself a Baha'i."
A group of conservative merchants from Tehran's bazaar also issued a statement on May 16 criticizing Faezeh Hashemi's meeting and called on Tehran's prosecutor to investigate.
In the holy city of Qom, a member of the conservative Combatant Clergy Association said they would meet to discuss "this ugly action by the daughter of Ayatollah Hashemi Rafsanjani."
A spokesman for the clerical faction of MPs meanwhile publicly scorned Faezeh Hashemi and joined other hardliners in calling on the Judiciary to punish her.
Faezeh Hashemi has also been criticized by the Rouhani administration.
"I wish those who carry a prominent family name… would think about the consequences of their actions… and realize that their action has neither helped their host nor removed any burden from the country's shoulders," said Rouhani's Cultural Affairs Adviser Hesamoddin Ashena on his Facebook page.
Rouhani has been facing growing criticism from civil rights activists for failing to deliver on his presidential election campaign promises to open up Iranian society and investigate human rights violations.

No Regrets
Despite the torrent of criticism, Faezeh Hashemi has offered no apologies.
"I paid a visit to Ms. Kamalabadi because she was my cellmate. We lived together for six months," she said in an interview with Euronews' Persian service on May 15, 2016. "Meeting her when she was released on furlough for five days after eight years of imprisonment was a very ordinary thing. We aren't animals who ignore moral and humanitarian obligations that are put on our shoulders at certain periods of our life."
Faezeh Hashemi also described her time in prison as a "very valuable learning experience" adding, "We in Iran are committing injustice not only against [Baha'is] but against many others as well. But the level [of injustice] against [Baha'is] is worse than all others. This should not be happening. We must change our behavior."
Legal Loophole
Iranian laws do not specifically prohibit contact or communication with Baha'is, therefore meeting with Baha'is is not technically illegal. However, the Iranian Constitution includes a loophole that could be used to punish minorities above and beyond the law.
Article 167 of the Constitution states: "The judge is bound to endeavor to judge each case on the basis of the codified law. In case of the absence of any such law, he has to deliver his judgment on the basis of authoritative Islamic sources and authentic Fatwas [religious decrees]. He, on the pretext of the silence of or deficiency of law in the matter, or its brevity or contradictory nature, cannot refrain from admitting and examining cases and delivering his judgment."
Faezeh Hashemi's critics are now referring to religious decrees (fatwas) against Baha'is, including those issued by the supreme leader, to build a case against her.
In his 2016 report on Iran's human rights situation, UN Special Rapporteur Ahmed Shaheed expressed "serious concern at the continuing systematic discrimination, harassment, and targeting that adherents of the Baha'i faith continue to face in the country."