Source: www.iranhumanrights.org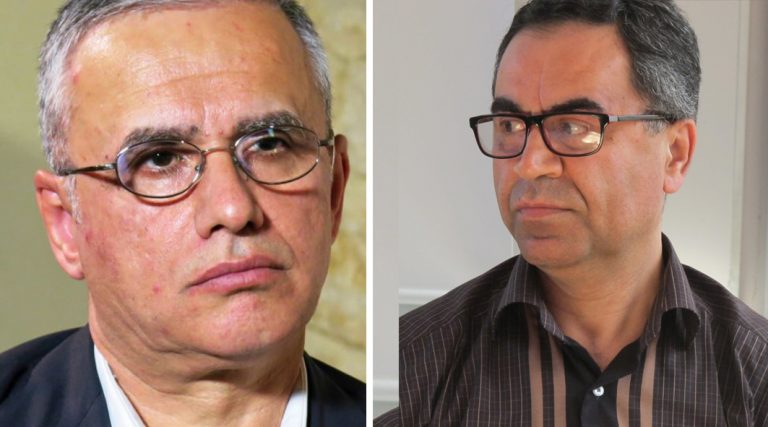 In the wake of the intense criticism by Iranian officials and religious leaders of Faezeh Hashemi, the daughter of former President Akbar Hashemi Rafsanjani, for her meeting with Baha'i leader Fariba Kamalabadi, several exiled Iranian political figures have publicly voiced their condemnation of the persecution of Baha'is in Iran.
Faezeh Hashemi, a former MP from Tehran, was cellmates with Kamalabadi in Evin Prison between September 2012 and March 2013. Hashemi met with Kamalabadi in Tehran during Kamalabadi's five-day medical furlough from prison on May 13, 2016.
Reza Alijani, a board member of the banned peaceful political opposition group Melli-Mazhabi (the National-Religious Alliance), in an interview with the International Campaign for Human Rights in Iran said that Iran's progressive politicians, reformist religious thinkers and civil rights activists should take steps to end the persecution of the Baha'i community.
"These statements [by Iranian officials about Baha'is] are remnants of an ancient injustice that must be revisited," said Alijani, who has been based abroad since fleeing Iran after facing prosecution for his political briefs.
In 2008 Kamalabadi and six other leaders of the Baha'i religious minority were arrested in Iran and sentenced to 20 years in prison each in 2010 for "espionage," "propaganda against the state," and "organizing and expanding an illegal group." Kamalabadi was allowed to go home on medical furlough on May 19, 2016 for five days for the first time in her eight years of imprisonment.
Systematic Persecution Since 1979
"The animosity, hatred and atrocities waged against Baha'is by Muslims, and Shi'ites in particular… are vestiges of theological rulings from an ancient time that has unfortunately been systematically pursued by the state since [Iran's] 1979 revolution, and have led to many crimes against Baha'is," Alijani told the Campaign.
"The state should not use religious and sectarian differences and prejudices as the basis for mistreating its citizens," said the political activist. "Mistrust [based in religious pretexts] should not be used by the state to deny citizens their human rights or subject them to harassment or torture."
"In today's world, unlike in the past, the individual has dignity and rights regardless of his or her beliefs," added Alijani.
Bold Move
Despite decades of international condemnation of their discriminatory behavior, Iranian leaders—particularly the country's supreme leader, Ali Khamenei—have justified the continued persecution of Baha'is by describing them as "unclean" and even forbidding Muslims from shaking hands with members of the faith.
The Baha'i community is one of the most severely persecuted religious minorities in Iran. The faith is not recognized in the Islamic Republic's Constitution and its members face harsh discrimination in all walks of life as well as prosecution for the public display of their faith.
Faezeh Hashemi's high-profile meeting with a Baha'i leader has been praised by human rights groups and activists and lauded by the international press. But she has come under intense pressure from the religious establishment in Iran and threatened with prosecution by the Judiciary.
"If we want to move beyond the media's sensationalism surrounding this meeting and take something meaningful from it, we should make an example of Ayatollah [Hussein-Ali] Montazeri's views on Baha'is and accept their right to live and prosper like any other citizen of Iran," said Taghi Rahmani, another board member of the Melli-Mazhabi Alliance, who has also been based abroad since fleeing Iran.
In 2008, the late Montazeri declared: "The Baha'i sect is not recognized in the Constitution as a religious minority along with Jews, Christians and Zoroastrians, but they belong to this country and deserve to live and prosper and enjoy the rights of citizenship. They must also be treated with Islamic mercy as commanded by the Quran and Muslim leaders."
In an interview with the Campaign, Rahmani said: "We must ask this fundamental question: how can anybody be considered unclean? The [alleged] uncleanliness [of Baha'is] is not a view shared by all theologians."
"If someone is born to Baha'i parents, can you deny her or him citizenship rights under a state that claims to represent and be responsible towards each and every citizen?" added Rahmani.
Fearless Faezeh
Despite the resulting flurry of attacks, including a vow by the Judiciary to punish Faezeh Hashemi, the outspoken social activist has expressed no regrets about meeting with Kamalabadi.
"We in Iran are committing injustice not only against [Baha'is] but against many others as well," she said in an interview with Euronews on May 15, 2016. "But the level [of injustice] against [Baha'is] is worse than all others. This should not be happening. We must change our behavior."
Simin Fahandej, the faith's spokesperson at the United Nations in Geneva, told the Campaign that the attacks on Faezeh Hashemi were aimed at further isolating the Baha'i community.
"Faezeh Hashemi's action is a humanitarian gesture to show respect for the beliefs of others, which shows her social maturity," said Fahandej on May 19, 2016.
"Today we see a significant change not only in the views of human rights activists [towards Baha'is] but also the general public's views," she added.