Source: BahaiNews1
Translation by Iran Press Watch
28. June 2016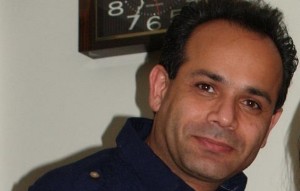 Based on a report from "BahaiNews", Afshin Seyyed-Ahmad was transferred to prison today at noon, after going to Evin court.
As reported by "BahaiNews", this Baha'i citizen, who had previously been sentenced to three years in prison, was arrested after going to Evin court, and transferred to Evin Prison to serve his three-year sentence.
This Baha'i citizen and Kamran Ghaysar, both residents of Karaj, were previously arrested by security forces on 2 November 2012, and were transferred to an unknown location after their homes and work places were inspected.
It should be noted that according to informed sources this Baha'i citizen will be transferred from Evin Prison to Rajai Shahr Prison tomorrow.
_____
1. "BahaiNews" is an independent non-Bahá'í initiative and is not affiliated with any Baha'i institutions.