Source: www.mercurynews.com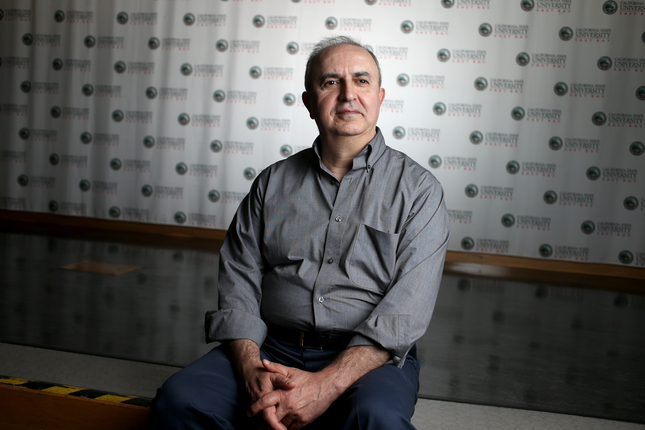 Farhad Sabetan poses for a photograph at Cal State East Bay in Hayward, Calif., on Wednesday, Aug. 10, 2016. Sabetan is an economics lecture at the university. (Anda Chu/Bay Area News Group)
Banned from college in Iran because of her Baha'i faith, Niknaz Aftahi risked everything to learn, studying architecture at a storied underground university that moved from living room to living room, at times meeting at her family's home in Tehran.
Now in the Bay Area, with a master's degree and architecture job, Aftahi is repaying her debt of gratitude, offering the same hope to the next generation of Baha'i students. She is part of a growing network of mostly Baha'i faculty locally and around the world who teach and mentor the students from afar, for free.
"Just the fact that I feel like I'm contributing a little bit brings me a lot of satisfaction and happiness," she said. "Some of my students are such good designers and when I teach them, I really want to do my best because I feel like I'm the only resource they have."
Aftahi teaches design at night for the Baha'i Institute for Higher Education from her Richmond home, beaming her lessons over the internet to her dedicated students, more than 6,500 miles and 11 time zones away.
Her husband Fares Hedayati, a data scientist, works with computer science students. Cal State East Bay economics lecturer Farhad Sabetan taught sociology this spring. Ron Shigeta, a biotech venture capitalist from Berkeley who converted to the faith about 25 years ago, offers a humanities course: the philosophy and history of science.
"What gave me energy was the eagerness of these students to know," said Sabetan, who lives in Pleasanton. "I had to sometimes stop the questions because we were falling behind on the course."
More than 5 million Baha'is span the globe, and roughly 300,000 live in Iran, where they form the nation's largest non-Muslim religious minority, according to the Baha'i International Community, a nongovernmental organization long recognized by the United Nations. The faith — which teaches the unity of religion and does not have clergy — originated in Iran, but persecution against its members and other religious minorities intensified after the Iranian Revolution of 1979.
Teaching Baha'i students banned from Iranian universities is a dangerous business for those living inside the country. The classes are routinely raided, but having professors, teaching assistants and other supporters on the ground, risking arrest, is essential for the survival of the 29-year-old institute.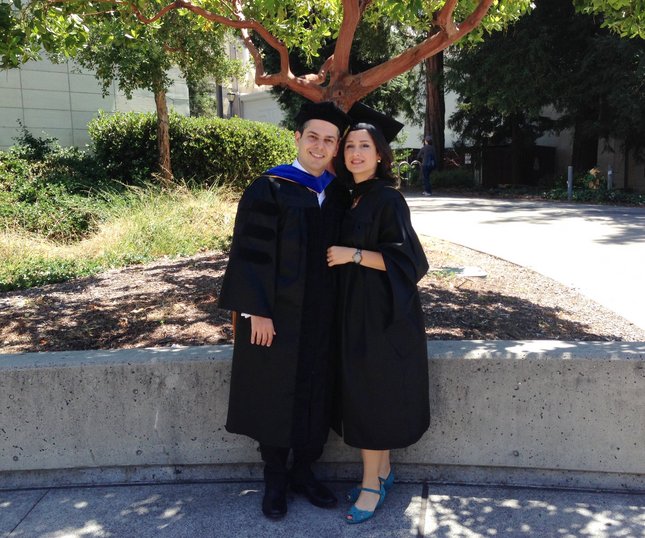 Niknaz Aftahi, right, and her husband Fares Hedayati, left, both attended the underground Baha'i Institute for Higher Education in Iran before moving to the United States and continuing their education at UC Berkeley. Aftahi received a master's in architecture, and Hedayati, a data scientist, enrolled as an undergraduate and later earned a doctorate in machine learning. The couple,pictured at UC Berkeley in May 2014,are now supporting the institute from afar. (Photo courtesy of Niknaz Aftahi)
Supporters say that the school's burgeoning online component has helped it weather waves of government crackdowns. Not only does it link students to hundreds of academics from around the globe, they say, but it protects precious educational materials from being wiped out during raids.
"I don't think I had a term pass where somebody in class or their relatives were not arrested," said Shigeta, chief science officer for the IndieBio startup accelerator in San Francisco, who teaches one of the online courses. "There's always suspense about what's going to happen and when."
Aftahi recalls her mother's panic one day as a bearded student she didn't recognize rang the doorbell while the class met at their home in Tehran. They frantically packed up their papers only to find, to their relief, that the visitor was not a government official, but a classmate.
The university offers 18 four-year degrees from psychology to chemical engineering, according to its website, and although it is unaccredited, prestigious schools such as UC Berkeley have begun to accept its graduates. The institute doesn't report exact enrollment numbers because of the secrecy of its operations, but its supporters estimate the tally is fairly small — possibly around 1,000 or 2,000.
The U.N. General Assembly has released statements of concern about discrimination in Iran against "ethnic, linguistic, recognized religious or other minorities," including Jews, Christians, Sunni Muslims and Arabs, and the Baha'i, whose religion the government does not recognize.
The persecution of Iranian Baha'is was featured in the 2014 documentary "To Light a Candle" by Iranian-Canadian journalist and documentary filmmaker Maziar Bahari. The Education Is Not a Crime campaign, launched the same year, also has heightened awareness of the human rights abuses in Iran — and the Baha'is' courageous pursuit of knowledge.
In contrast to the large design studios at UC Berkeley, where Aftahi went on to earn a master's degree in architecture, she and her classmates in Tehran took over every room of a friend's house to work on their projects. Kitchens are sometimes used as dentistry labs, Sabetan said.
"I have so many good memories of that time," said Aftahi, "even though there was so much uncertainty, and any day they could come after you."
Follow Katy Murphy at Twitter.com/katymurphy.
baha'i faith
About: Founded in Iran in the 19th Century but not recognized by the Iranian government, the Baha'i faith teaches the oneness of religion and of the human race. It has no clergy and is run by elected local, national and international bodies. Its principles include universal education, equality of men and women, the elimination of extreme wealth and poverty, and the harmony of science and religion.
Persecution: Baha'is are banned from universities in Iran and from holding government positions. The United Nations General Assembly in 2010 reported concerns over "increasing evidence of efforts by the State to identify, monitor and arbitrarily detain Baha'is, preventing members of the Baha'i faith from attending university and from sustaining themselves economically, the confiscation and destruction of their property, the vandalizing of their cemeteries" and depriving detainees of due process in court.
World population of Baha'i: 5 million
Baha'i in Iran: about 300,000
Source: Baha'i International Community, United Nations